A Time of Thanksgiving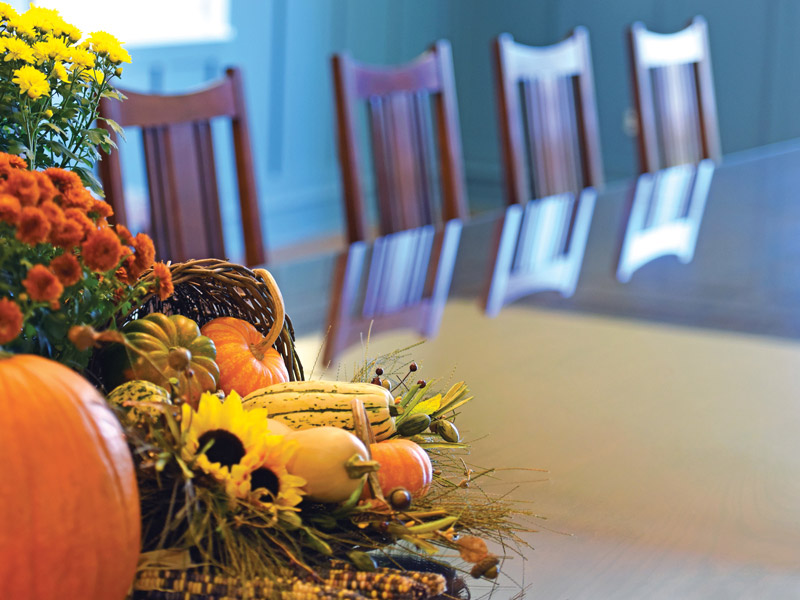 Given the pace of change in today's increasingly complex world, little moments of continuity take on special meaning. I had one such experience earlier this weekend, while attending a pre-Thanksgiving gathering. With the turkey fresh out of the oven and only the gravy yet to stir, I joined my six-year-old great niece in pouring water into glasses at each place setting.
There it was . . . right before me . . . a very familiar table decoration. Brown construction paper, feathers of orange and yellow. Can you guess? It was a child's drawing of a Thanksgiving turkey. I made many of these years ago and perhaps you did also. First graders still stretch open their fingers and trace around their hands to make turkeys.
Customs surrounding Thanksgiving come from many regions and traditions. In America, we have been influenced especially by the celebrations of the Puritans and the Pilgrims. One can find both sacred and secular meanings in this annual rite of giving thanks. At Aurora University, I am grateful continuously for our students as well as our trustees, alumni, friends, faculty and staff united in shared purpose.
As educators, we truly believe that learning has the potential to make a better world, one graduate at a time. Ours is a privilege denied in other parts of the globe. We assemble freely to teach and to learn, to explore ideas and their implications, to consider action and its consequences. This week, whether we gather with family or say quiet, private prayers, we are blessed indeed. Happy Thanksgiving.


Rebecca L. Sherrick, PhD
President