Update - 1 July 2020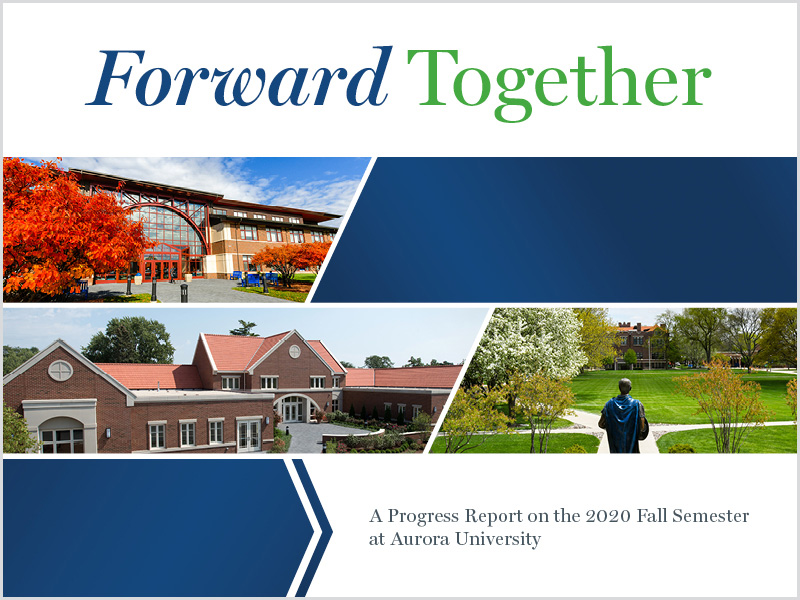 Updated 31 July 2020. Read the updated Forward Together Progress Report and the president's message to campus and check the AU's Forward Together website for the most up-to-date information on fall semester.
I am pleased to share with you this document that sets forth our current thinking about the 2020 fall semester at Aurora University. As June turns to July, we know that students and families want to begin making decisions. Therefore we have compiled all existing information into this progress report. Please take the time to read this document carefully and to pose questions. A comprehensive directory is provided at the conclusion of the report for your convenience.
Over the last 14 weeks, we have tried to communicate frequently and to listen and read carefully. I hope you will see evidence of this thoughtful approach as you read the progress report. In a time such as this — when it often feels that we have no control over the circumstances of our own lives — we want to offer choices. We will continue to take this tack. In addition, we will continue to communicate with students and parents regularly and to respond to your inquiries promptly.
Even as we readied this progress report for publication, news of the relentless virus was all around. A month ago, many were hoping for a summer respite, the end of the "first wave" we've heard so much about since early spring. Now cases are spiking in new areas of the country, prompting reassessments. At AU we recognize that this process is likely to continue for much of the 2020–2021 academic year. Our job will be to find pathways forward as we pursue our twin goals of safety and educational growth.
We are committed to the well-being of our students across all of our campus locations. To that end, we will be sharing more information specific to the George Williams College campus in the very near future.
Be well. Go, Spartans.
To see the new landing page for all COVID-19 information, click here.

Rebecca L. Sherrick, PhD
President