Update - 7 April 2021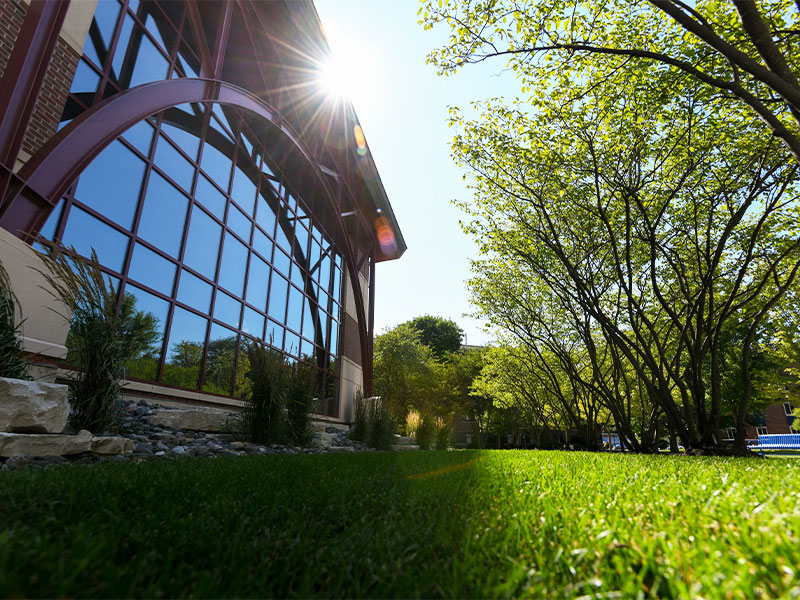 A message from Frank Buscher, Vice President for Academic Affairs:
Greetings from the Office of Academic Affairs in Eckhart Hall! We hope you enjoyed the long Easter Holiday weekend. We are now in the final countdown to the end of the term with only a few weeks until finals. We would like to share some reminders and news of upcoming events. Please feel free to direct academic-related inquiries and questions to academics@aurora.edu or your school's academic dean.
Reminder – Register for Classes
If you are returning to AU next year and haven't yet registered for classes, be sure to do so as soon as possible! If you have earned under 30 credits or need assistance registering, please schedule an appointment with your student success advisor via Handshake or by calling 630-844-6870. AU Online students may contact their advisors at 888-688-1147 or at onlineadvising@aurora.edu.
Plus One Graduate Programs Summer 2021
Do you have additional athletic eligibility? Are you looking to jump start your career? Aurora University's Plus One graduate programs allow you to complete your master's degree in one year. The program begins in June and finishes the following May. We are about to enter our fourth year of the Plus One programs. This year, we are featuring several Plus One programs:
More information is available online.
Spartan Summer 2021
Registration for summer courses is now open for current AU students. Students enrolled at other colleges should contact the Registrar's Office for more details or sign up to receive updates here.
Special Undergraduate Summer Pricing: $425 per credit hour (This pricing does not apply to graduate or Plus One courses).
Financial Aid: Summer 2021 Application
To learn more about the full slate of Spartan Summer program offerings, including general education and major courses, immersive experiences, and professional preparation courses, check out The Spartan Summer website.
AU Level Up Career Services
AU's Office of Career Services is hosting several complimentary professional opportunities for AU students.
April 7–8 – Virtual Resume Review
April 8 (4 p.m.) – Virtual Job Search Workshop
April 13–15 – Virtual Mock Interview Workshop
April 19 and 20 – Professional Headshots (in person)
Register for one or all the events at aurora.edu/levelup. Questions? Contact career@aurora.edu or call 630-844-5404.
Sundays @ 7 Career Conversations
Join us on Sunday, April 11, (7 p.m.) for a career conversation with AU alumnus Emiliano Ponce '13, Computer Science. Ponce, a senior systems engineer with Tada Cognitive Solutions, has software engineering experience at both a Fortune 500 company and a small start-up company. He has worked with a variety of different languages, libraries, and technology solutions such as Java, JavaScript, React, Express, MongoDB, and Azure. As an AU student, he served as a resident assistant, where he honed his skills as a team player. Ponce also was a team leader for the Communities In Schools program and a dispatcher for Campus Public Safety.
Our final Sundays @ 7 Career Conversations is Sunday, April 18 (7 p.m.). Michael DeVries '10, a graduate from AU's Athletic Training program, will share his career journey with the AU community. For nearly seven years, DeVries has served as the head athletic trainer for Schaumburg (IL) High School where he oversees the organization and administration of athletic training services. Prior to his current position, he was an athletic trainer at ATI for almost five years, working in a variety of settings. As a Spartan, DeVries played on the football team for four years and was a member of the Spartan Athletic Training Club. He earned his master's degree from Northern Illinois University in pedagogy and curriculum development in 2013, where he also held the role of graduate teaching assistant. He is also currently working toward a master's degree in sports science and rehabilitation from Logan University.
Register online for the Sundays @ 7 Career Conversations.
Virtual Spring Musical
Our spring musical, "Fugitive Songs: A Song Cycle," explores the human desire to grow and change and fight against enduring odds. This innovative song cycle, conceived as half-musical/half-concert, spotlights people on the run: a disgruntled Subway sandwich employee, a jilted ex-cheerleader, a pair of Patty Hearst fanatics, a drug user forced to rob a convenience store against his will, and many others. Blending traditional folk music with contemporary pop and gospel, "Fugitive Songs" offers a new sound for a restless America. These performances will be streamed digitally and presented April 14–18, 2021, at 7:30 p.m. Please register online.
Commencement Planning
Undergraduate and graduate ceremonies for the Aurora University main campus are planned for Saturday, May 1, and Sunday, May 2, 2021. Graduate candidates received an email with their assigned ceremony, date, and time. Go online to learn more about the spring 2021 graduation ceremonies. If you have questions, please contact commencement@aurora.edu.
Upcoming Events and Dates
April 10 – Graduate Research Symposium (virtual)
April 10 – All Graduate Programs Virtual Open House 10 a.m.–noon (register here)
April 14–18 – Virtual Spring Musical "Fugitive Songs: A Song Cycle" (more information is available online)
April 18 – Last Day to Withdraw from Module II Spring 8-Week Classes
April 24 – Last Day of Spring Classes (16-week)
April 26 – Final Exam Week Begins
April 30 – GWC Commencement
May 1 – Last Day of Spring Classes (Spring II 8-week Module)
May 1 – AU Graduate Commencement
May 2 – AU Undergraduate Commencement
May 3 – Summer and May Terms Begin
From the Registrar's Office: The "Important Dates for Faculty and Students" grid is located on the Registrar's website.