Update - 24 March 2021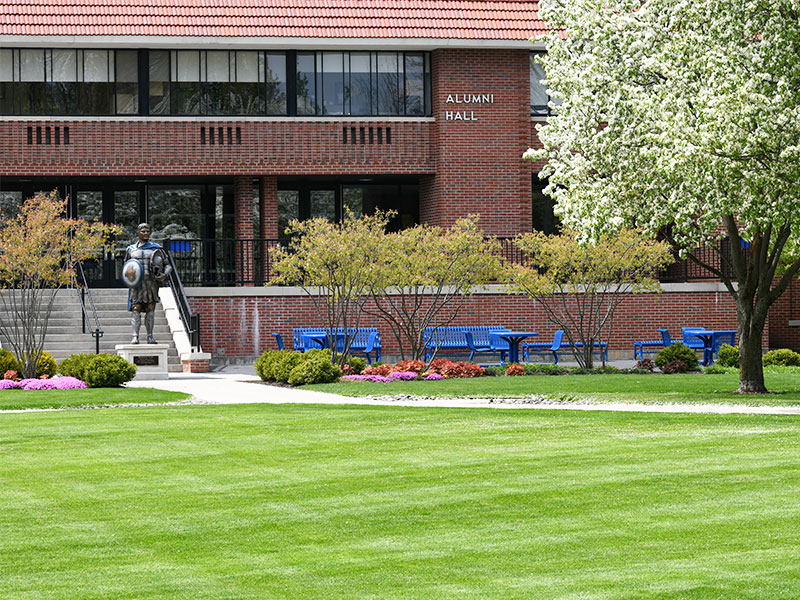 A message from Frank Buscher, Vice President for Academic Affairs:
Greetings from the Office of Academic Affairs in Eckhart Hall! Welcome to spring! We would like to share some reminders and news of upcoming events. Please feel free to direct academic-related inquiries and questions to academics@aurora.edu or your school's academic dean.
With the good news that Illinois and the nation are making excellent progress in rolling out the COVID-19 vaccines, we want to encourage you to (re)join us on campus. Throughout the year, we have remained open to you and your peers, providing a suite of services designed to support your academic progress and success. Now that spring is upon us, the campus is coming to life with all that comes with a return to warmer weather. As we slowly march toward a return to normal, an important step you can take is to start to reengage with the campus community. Stop by and see a professor, join your peers in class, and enjoy all that the campus community has to offer! We look forward to reconnecting with every one of you in the coming days and weeks!
Come Home to the Quad
Students are encouraged to come to campus and the main quad on Tuesday, March 30 (11 a.m.–1 p.m.) to safely enjoy free food, games, and prizes. In addition to a funnel cake food truck, hot dogs and nachos will be served, along with beverages and snacks. Activities include volleyball, bags, and Jenga. Prizes, including a pair of Apple AirPods, will be awarded. Campus tours will be offered, too. Masks are required.
Commencement Planning
Undergraduate and graduate ceremonies for the Aurora University main campus are planned for Saturday, May 1, and Sunday, May 2, 2021. Graduates will receive an email with their assigned ceremony date/time as soon as possible.

Spring 2021 undergraduate or graduate candidates from the Aurora campus participate only in the spring ceremony at the Aurora main campus.
Spring 2021 undergraduate or graduate candidates from AU Online or Woodstock Center may participate in either the Aurora or GWC spring ceremony.
Spring/summer/fall 2020 graduates are invited to participate in the spring 2021 ceremonies. Please monitor your email for more information.
Go online to learn more about the spring 2021 graduation ceremonies and to register for graduation.
Important Graduation Deadlines
Sundays @ 7 Career Conversation
As you think about post-graduation, you may be wondering how to set yourself apart amongst candidates in an ever-growing competitive job landscape. You may have also heard about AU's Plus One master's degree programs that allow students with any undergraduate major to earn a graduate degree in just one year. Join us on Sunday, March 28, at 7 p.m. (register online) to learn how the Plus One program launched the careers of three AU alums. You will gain insight on why you should earn an early-career master's degree, how the Plus One helped these students become professionals, and how you can join an accomplished group of Plus One alums.
Complete Your FAFSA
Registration for summer courses is now open for current AU students. Students enrolled at other colleges should contact the Registrar's Office for more details or sign up to receive updates here.
Are you interested in financial aid for the summer term? Follow the steps below to determine your summer financial aid eligibility.
Complete the Summer 2021 Aid Application as soon as possible.
Make sure your 2020-21 FAFSA is completed.
Review your AU email account for notifications regarding your summer financial aid eligibility. Allow up to two weeks for notifications after completing
Steps 1 and 2.
Submit requested items in "My Documents" on your WebAdvisor account.
Please be aware that students interested in receiving financial aid for the summer term must be admitted as a degree-seeking student during the summer term.
The deadline to complete an initial 2020-21 FAFSA is June 30.
Complete your Summer Aid Application now.
COVID-19 Reminders
You continue to do a great job in helping us minimize the spread of COVID-19! Check out the stats. That's the good news. As a reminder, we need to remain vigilant to win this fight against a determined and clever opponent. While in the classroom, please remember to:
Abstain from drinking and eating.
Wear a mask.
Practice social distancing.
Surveillance Testing
Additionally, I want to remind you about surveillance testing for COVID-19. Several weeks ago, we began surveillance testing among student-athletes. Residential students, nursing students, and full-time regular employees will be randomly selected for campus surveillance testing. Only a small subsection of each group will be tested each Wednesday, allowing the university to identify potential exposures, as well as better monitor potential outbreaks. Those selected will be notified about testing via email. For more information, please refer to the February 1 campus update.
Upcoming Events and Dates
Sunday, March 28 – End Drop – Last day to withdraw with automatic grade of "W" for 16-week 21/SP classes.
Sunday, March 28 – Deadline for Graduation Application
Sunday, March 28 – Sundays @ 7 Career Conversations – Plus One Program Alumni Panel [Register online for this event]
Wednesday, March 31 (8 a.m.–5 p.m.) – Aurora University's virtual Undergraduate Research Symposium (UGRS)
April 1–2 – Easter Holiday Break (no classes)
Friday, April 2 – Deadline to order cap and gown
Tuesday, April 6 – Virtual Internship Workshop (register online at aurora.edu/levelup)
April 6–8 – Virtual Resume Review (register online at aurora.edu/levelup)
Thursday, April 8 (4 p.m.) – Virtual Job Search Workshop (register online at aurora.edu/levelup)