Update - 10 February 2021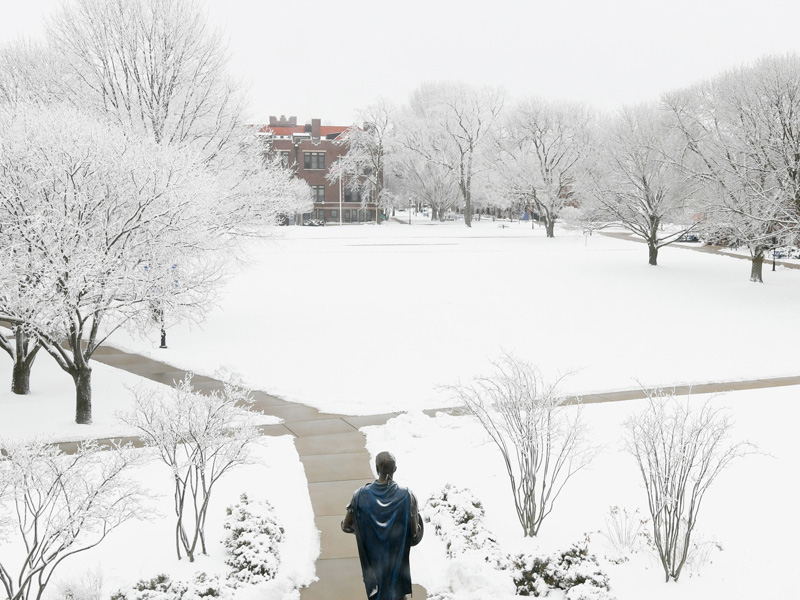 A message from Frank Buscher, Vice President for Academic Affairs:
Greetings from the Office of Academic Affairs in Eckhart Hall! Now that we are in week 5 of the semester, we are excited to share some reminders and news of upcoming events. Please feel free to direct academic-related inquiries and questions to academics@aurora.edu or your school's academic dean.
Course Registration
As of February 8, the 2021–2022 course schedule (summer 2021–spring 2022) is available for viewing with the following registration dates:

Monday, February 22, noon – Registration opens for ADC/AU Online/Graduate students

Tuesday, February 23, noon – Registration opens for students who have earned 90+ credits

Thursday, February 25, noon – Registration opens for students who have earned 60–89 credits

Tuesday, March 2, noon – Registration opens for students who have earned 30–59 credits

Thursday, March 4, noon – Registration opens for students who have earned <30 credits (who have completed advisor appointments)

Thursday, March 4 – Registration appointments start for incoming transfer students beginning at AU in the summer or fall of 2021 and spring 2022
We recommend that you to check for administrative "holds" which may prevent you from registering.
For assistance with registration questions, please contact your student success advisor (studentsuccess@aurora.edu) or graduate program advisor.
General Education Course Search
We recommend that students use the "New Category" headings when searching for general education courses in WebAdvisor:
| | |
| --- | --- |
| Former Category  | New Category  |
| Creative and Artistic Expression  | Artistic Literacy  |
| Cultures and Civilizations  | Cultural Literacy  |
| Individual and Society  | Human Inquiry  |
| Scientific Reasoning  | Scientific Inquiry  |
If you have any questions, please contact your student success advisor or email studentsuccess@aurora.edu.
CareerFest 2021
The 32nd Annual Career Fest will be virtual this year and take place on Friday, February 12, from 10 a.m.–2 p.m.  The final deadline to register is Wednesday, February 10. Visit the CareerFest website to learn more and register online.
Sundays @ 7 Career Conversations
Join AU alumni for a 45-minute Zoom conversation about their career path (register online for this event).
Sunday, February 14, 7 p.m. — Jonathan Ingram '03, Political Science. Ingram is a management consultant with The Novak Consulting Group, a national leader in providing business consulting services throughout the U.S. He has 16 years of experience in management consulting and local government management, most recently as budget manager for the City of Cincinnati, Ohio. At AU, Ingram played football, served as an admissions ambassador, and was a member of the Fellowship for Christian Athletes.
Sunday, February 21, 7 p.m. – Law School Prep Panel. This panel features three AU alumni and will be moderated by Dr. Matt Dabros, associate professor of political science and public policy and pre-law advisor. Students will gain an insight into how to prepare for law school at the undergraduate level, how to be a successful law school applicant, and how to succeed in law school.
Undergraduate Research Symposium
Aurora University's Undergraduate Research Symposium (UGRS) will take place on Wednesday, March 31, 2021, from 8 a.m. to 5 p.m. in a virtual panel presentation format. The symposium will mirror a traditional academic conference to help professionalize students into the world of conducting high-quality, discipline-appropriate research and presenting their ideas in a panel format to peers and faculty. To apply:
Students will request a faculty mentor.

The collaborating faculty member will approve a 300-word abstract for submission.

February 22 – Undergraduate students are to submit the application form and 300-word abstract to Prof. Stacy Searle-Gulli (

ssearle@aurora.edu

).

March 8 – Students selected to participate in the symposium will be announced.
COVID-19 Reminders
You have done a great job in helping us minimize the spread of COVID-19! Check out the stats. That's the good news. Unfortunately, we need to remain vigilant to win this fight against a determined and clever opponent. While in the classroom, please remember to:

Abstain from drinking and eating.

Wear a mask.

Practice social distancing.
Surveillance Testing
Additionally, we want to remind you about surveillance testing for COVID-19. Several weeks ago, we began surveillance testing among athletes. This week, residential students, nursing students, and full-time regular employees will be randomly selected for campus surveillance testing. Only a small subsection of each group will be tested each Wednesday, allowing the university to identify potential exposures, as well as to better monitor potential outbreaks. Those selected will be notified about testing via email. For more information, please refer to the February 1 campus update.
Upcoming Events and Dates
Wednesday, February 10, 7 p.m. – Academic Support Center 

Wednesday Writing Workshop

 (register via Okta using Academic SupportNet)

Friday, February 12, 10 a.m.–2 p.m.) – 32

nd

 Annual CareerFest. Register 

online

 by Wednesday, February 10.

Sunday, February 14, 7 p.m. – 

Sundays @ 7 Career Conversation

 (

register online

 for this event)

Tuesday, February 16, 7 p.m. – Faculty Book Discussion: 

"In Defense of Liberal Education

" by Fareed Zakaria (register 

online

 for this virtual event)

Sunday, February 21 – Last day to drop a course with an automatic grade of "W" for S1 21 (first 8-week module) course

Sunday, February 21 – 

Sundays @ 7 Career Conversation: Law School Panel

 (register 

online

 for this event)

Monday February 22 – Undergraduate Research Symposium application and abstracts due (email to 

ssearle@aurora.edu

)