Update - 27 January 2021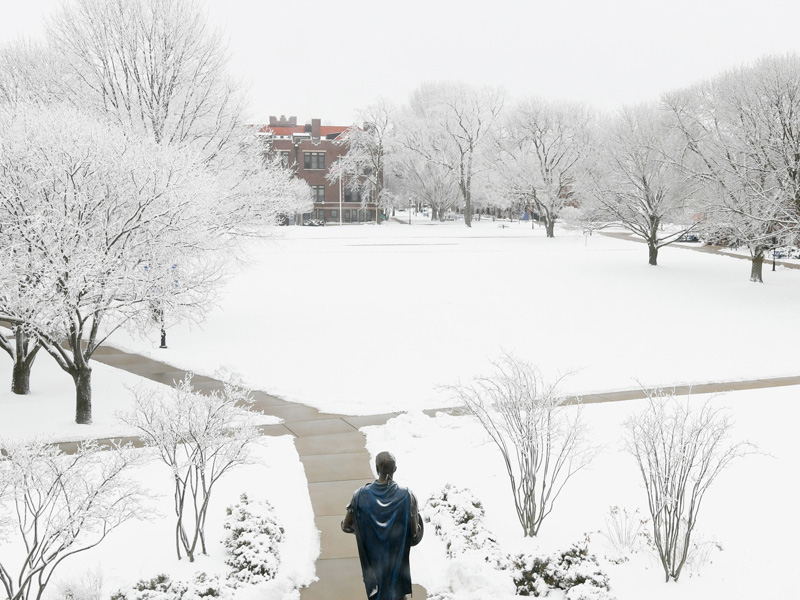 A message from Frank Buscher, Vice President for Academic Affairs:
Greetings from the Office of Academic Affairs in Eckhart Hall! Now that our first major weather event of the year is under our belts, we are excited to share some reminders and news of upcoming events. This update covers the topics of Academic Support Services, Health Services, Sundays @ 7 Career Conversations, CareerFest 2021, and job search workshops for the spring term.
Please feel free to direct academic-related inquiries and questions to academics@aurora.edu or your school's academic dean.
Supporting Academic Success
As we wrap up January, now is a good time for you to take stock of your academic progress in your classes. How are you doing? Have you checked your Moodle gradebook? Uncertain of your performance? Have you taken advantage of instructor office hours?
Now is the perfect opportunity for you to reflect on what YOU can do to ensure your success this term. Dr. Sarah Radtke, dean of the School of Health Science, recommends the following top 10 steps you can take to ensure your success this term:
Plan to be successful in your course.
Buy a textbook.
Read and review the assigned materials in preparation for quizzes and exams.
Print out and have access to the course materials.
Show up to class on time, prepared to listen and take notes.
Do not multitask or allow distraction; put your cell phone away and stop the side conversations.
Be strategic about how you learn the material; pay attention to how you learn best and focus on those strategies.
Give yourself time to learn. Review the material in advance of the exam. Review notes, if necessary, for better understanding. Quiz yourself to ensure understanding.
Seek out the instructor or others in class to study and clarify questions.
Learn from your mistakes. Look at your behaviors and practices that may be hindering your success and change it. You have to own your own learning in order to be successful in college!
Additional academic services are provided by the following offices:
Health Services
When you're not feeling well, Health Services can help. Call the Health Services appointment line at 630-844-5434. The nurse will answer your questions and give you an appointment for evaluation of your symptoms.
Health Services is located at 1317 Marseillaise Place in the house across the street from Phillips Library (#36 on this map).
For hours and additional contact information, visit the Health Services website or email shs@aurora.edu.
Sundays @ 7 Career Conversations
AU's Office of Alumni Relations and Center for Student Success continue the spring 2021 term with the next installment of the Sundays @ 7 Career Conversations series. Join AU alumni for a 45-minute Zoom conversation about their career path. Learn insights into specific industries and how to get hired. This is your opportunity to make connections and to build your professional network.
Sunday, January 31 (7 p.m.) — Liz (Knock) Adams '09, Business and Marketing. Liz Adams is the manager of product marketing for Newell Brands, an American worldwide manufacturer, marketer, and distributor of consumer and commercial products, including such brands as Coleman, Rubbermaid, and Sharpie. Adams was a women's soccer player at AU and a member of the American Marketing Association.
CareerFest 2021
The 32nd Annual CareerFest will be virtual this year. The event will include local and regional employers offering internships, and full-time positions in business, government, health care, manufacturing, nonprofits, and social services. Using an online platform, you will be able to meet with employers and hiring organizations at their virtual booths through one-on-one sessions and interviews.
There is no cost for Aurora University students to register for CareerFest. Only registered students and alumni from the College Career Consortium of Illinois (CCCI) member institutions may attend.
While the final deadline to register is Wednesday, February 10, we recommend students register no later than Friday, February 5, in order to sign up for group information sessions and one-on-one sessions. Please register online here.
Launching Your Career – Job Search Workshops
Aurora University's Office of Alumni Relations is excited to host a number of Job Search Workshops for you and alumni. Each workshop will advance your ability to navigate your job search, refine your resume, and master the interview process. Plan to attend one or all of the workshops this semester. Registration and additional information are available here.
Thursday, February 4, 4 p.m. — Attending this workshop will prepare you for the February 12 Career Fest.
Tuesday, March 9, noon
Sunday, March 28, 7 p.m.
Thursday, April 8, 7 p.m.
If you have questions, would like individual assistance, or if these workshop dates do not work for you, contact Penny Petropoul, assistant vice president of alumni relations, at ppetropoul@aurora.edu.