Campus safety remains a top priority
January 08, 2020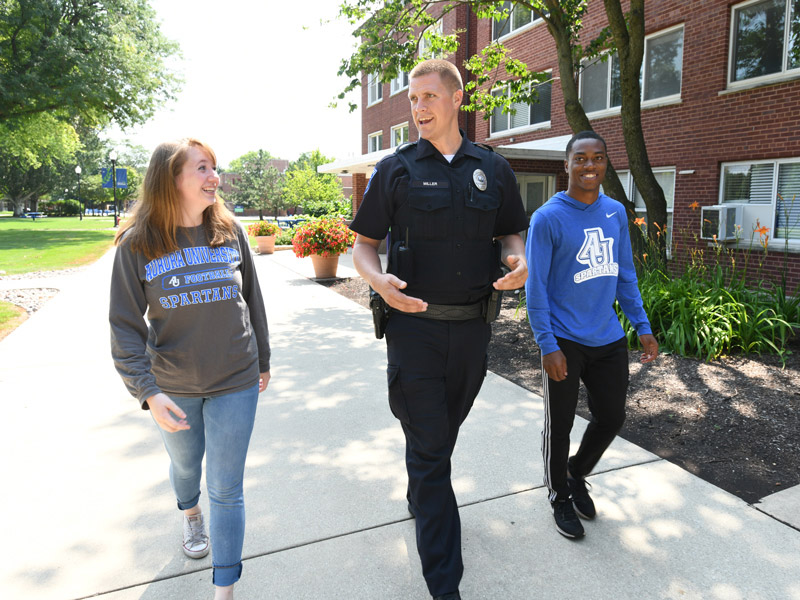 At Aurora University, safety is a campus-wide partnership between the university and each member of the campus community, where all of us, including you, are empowered and prepared to play an active role in your own safety and the safety of others. As part of the AU Spartan Safety campaign, we want everyone to be aware of their surroundings, be prepared to make informed decisions, and be responsive to take action in the event of an emergency.
To help in this effort, a new series of Spartan Safety newsletters will provide regular updates to the campus community on emergency preparedness activities, upcoming drills and tests, and important safety awareness tips. This first issue outlines our active shooter protocol, "Run. Hide. Fight.," and provides helpful safety information on severe weather/tornado emergencies and future training sessions.
Please take the time to read and review these important safety newsletters. Being informed and ready to act is the first step in being prepared.
Remember, safety at AU starts with you. Working together, we can keep Aurora University safe.


Amir St. Clair
Assistant Vice President

P.S. As always, we welcome your questions and suggestions about our campus safety efforts and invite you to share your feedback at safety@aurora.edu.
---
Active Shooter/Hostile Intruder Protocol
Aurora University follows the "Run. Hide. Fight." protocol in the event of an active shooter or hostile intruder. "Run. Hide. Fight." is the leading protocol followed across college campuses and is endorsed by both local and federal law enforcement agencies, including the U.S. Department of Homeland Security. "Run. Hide. Fight." provides the campus community with clear, actionable steps:
RUN: If there is an accessible path, attempt to evacuate.
HIDE: If evacuation is not possible, find a place to hide where the active shooter is less likely to find you.
FIGHT: As a last resort, and only when your life is in imminent danger, attempt to disrupt and/or incapacitate the shooter.
Severe Weather/Tornado Notification Procedure
Aurora University is prone to severe weather, and the campus is sometimes placed under a tornado watch. A tornado "watch" occurs when weather conditions are favorable for producing a tornado across a wide-spread area. A watch does not signify an immediate threat to campus or necessitate any specific response by the campus community. A tornado "warning" occurs when a tornado has been sighted or indicated by weather radar. Once a tornado warning has been issued for the campus area AND either a tornado has been spotted OR the city sirens have sounded, Campus Public Safety and emergency personnel will then activate the AU Alert system.
At such a time, please follow the severe weather safety protocol listed on building Emergency Response Guides, which is to seek shelter immediately and proceed to the lowest level of a building. Move away from windows and shelter-in-place within an interior space. Remain sheltered-in-place until you receive the All Clear message from the AU Alert system.
Safety Awareness Tips
If you see something, say something. If you notice something unusual, hear something concerning, or see something out of place on campus, contact Campus Public Safety immediately:

Main Campus (Aurora) and Orchard Center: 630-844-5450
George Williams College: 262-749-8320

Practice situational awareness.

Notice objects and people around you.
Identify entry and exit points.
Stay vigilant in both new and familiar surroundings.
Be aware of changes in the environment around you.
Upcoming Safety Trainings
A test of the AU Alert emergency notification system will be conducted later in the spring semester. The university has dramatically strengthened its AU Alert emergency notification system to include broadcasting emergency messages across all university communication platforms — to include text messages, email, website, social media channels, and emergency alert beacons. More information on this test will follow.
The university will host expert speakers to facilitate training presentations on "Run. Hide. Fight." and active shooter response procedures during the spring semester. Dates will be announced soon.
A system-wide tornado drill will be conducted in late March. This drill will allow the campus community to better prepare for responding to tornado and severe weather threats. More information on this drill will follow.