Center for Student Success: The hub for academic, vocational, and career planning
September 13, 2019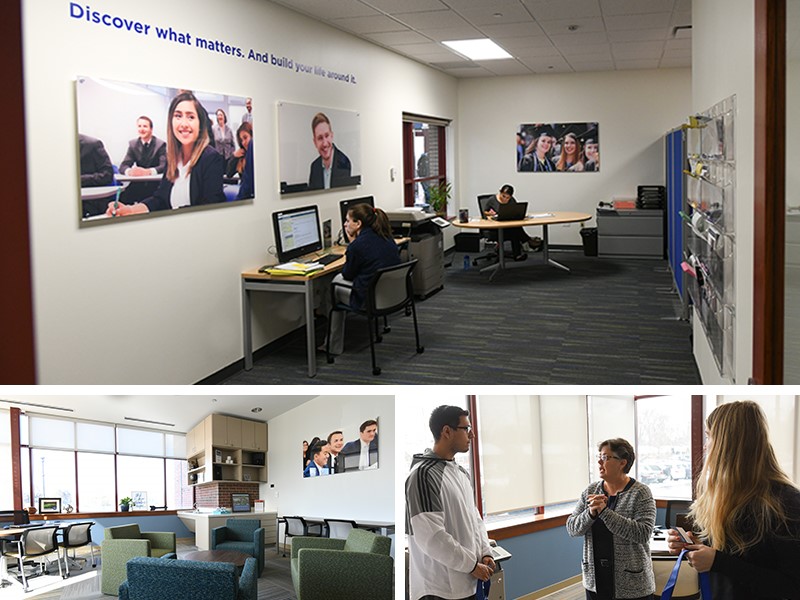 Students are experiencing AU's commitment to their success this fall with the launch of the Center for Student Success. The mission for the center is to prepare students for meaningful and successful careers and lives through academic advising, vocational exploration, and career development.
"Combining vocation, academic, and career services will enhance our students' ability to discover what matters and build their lives around it," said Amy Gray, vice president for student success. "While we will still provide 'career services' to our students through this model, there will no longer be a stand-alone Office of Career Services. All of the student success advisors will be able to provide students with support and guidance in vocational exploration, academic planning, and career development."
Throughout their time at AU, students will work with student success advisors to explore and choose majors, select courses to fulfill their academic goals, and develop and follow a four-year graduation plan. Student success advisors will also help students transition successfully into the workplace or graduate/professional school through a variety of services, including vocational exploration, resume and cover letter writing, and job search guidance.
Three locations for the new Center for Student Success are now open; a fourth office will open later this fall. Drop-in hours are available at all locations for vocational exploration and job search assistance.
Center for Student Success locations
630-844-6870 | studentsuccess@aurora.edu
Dunham Hall 103
Drop-in hours
Monday, Wednesday, Thursday, Friday: 8 a.m.–5 p.m., and Tuesday: 8 a.m.–7 p.m.
Appointments available Monday–Friday: 8 a.m.–5 p.m.
Eckhart Hall 310
Drop-in hours
Friday: 9 a.m.–1 p.m.
Appointments available Monday–Friday: 8 a.m.–5 p.m.
Institute for Collaboration 106
Drop-in hours
Monday, Tuesday, Thursday, Friday: 11 a.m.–3 p.m., and Wednesday: 11 a.m.–7 p.m.