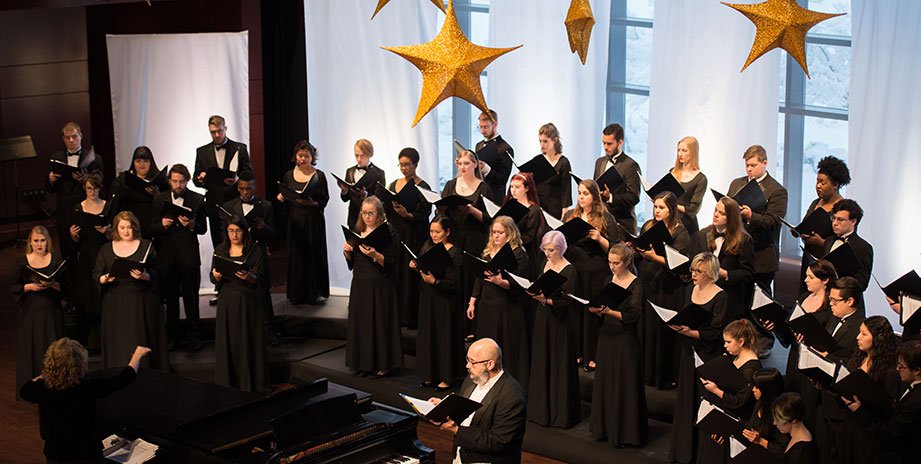 Throughout the year, AU students, faculty and guest musicians showcase their talents at free, on-campus performances. All performances are open to AU students, faculty and staff as well as alumni and community members.
Music is a tradition at Aurora! The AU Choirs delight audiences with their two annual signature performances, a holiday concert in December and a spring concert in April. The choirs also take an annual tour and perform at venues throughout the Fox Valley and at on-campus events throughout the year.  Vocalists can also participate in Opera Workshop, musical theater productions and in one of our student-led ensembles.  Pianists further their skills by taking lessons and performing at a variety of events.  The AU Band plays at sporting events and at its year-end concert. AU has a flute ensemble and a chamber string ensemble as well.   A wide variety of private lessons are available for beginners and experienced musicians.
The Celebrating Arts and Ideas series brings nationally renowned artists and musical groups to the Crimi Auditorium stage. The series also features several faculty recitals throughout the year as well as the Music Department's annual Christmas and spring concerts. The AU choirs and band and flute ensembles also perform other concerts in Crimi Auditorium during spring semester. Open to the community at no cost to patrons, Arts and Ideas serves the campus community and the Fox Valley through memorable cultural experiences.
This annual summer concert series, held at the George Williams College campus in Williams Bay, Wisconsin, offers a premier musical experience in an intimate lakeside setting. 
AU offers a Bachelor of Arts in Music in Voice or Keyboard, a Bachelor of Arts in Musical Theatre as well as a minor in music. The programs are designed to provide a strong foundation in music by combining academic study with the richly varied practical application of that knowledge in performance.