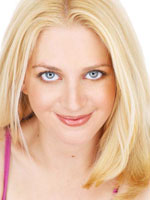 Assistant Professor of Theatre
Acting Program Coordinator

Office Location:  Stephens 202
Telephone: 630-844-7594
Fax:  630-844-7830
Email Address: sjoyce@aurora.edu
My goal is to create a curriculum and classroom that not only inspires my students, but inspires ME. I feel that part of my job as a teacher and mentor is to remain open to learning from my students while I teach. I believe that one of the most important things I can teach a student is the importance of collaboration with others while still being able to remain true to their own sense of self. I encourage students to not worry as much about finding the solution, but instead simply being brave enough to be part of the discussion. Before coming to Aurora in 2014, I was an Assistant Professor at Missouri State University and taught for summer programs at Northwestern University and Columbia University.
Education
MFA Theatre-Acting, Columbia University
BS Theatre-Acting, Illinois State University

Areas of Specialization
Acting, Directing, Voice and Movement, Theatrical Collaboration

Courses Taught
Introduction to Theatre
Acting I, II, III, IV
Directing
Voice and Movement

Highlights of Publications, Honors and Professional Contributions
I received a Professional Advancement Award from Jacob's Pillow Dance Festival as a selected theatre director for their Theatre & Dance Collaboration Choreographer's Lab.

As a performer, I have worked with many companies in Chicago and New York City including Strawdog Theatre (Joseph Jefferson Award for Hurlyburly), Famous Door Theatre, Chicago Dramatists, Profiles Theatre, the Mint Theater, Target Margin, Electric Pear, Peculiar Works Project, Spectre Box and PL 115.
I am a member of AEA (Actors Equity Association) and VASTA (Voice And Speech Trainers Association).

Highlights of Campus Involvement
I am delighted to direct once a year for the AU Theatre Mainstage season.

I have been helping to organize professional development workshops for students interested in pursuing a career in the theatre arts.