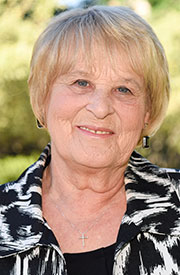 Visiting Assistant Professor of Special Education
Office Location: Institute for Collaboration Room 209
Phone Number: 630-844-7849
Email Address: pgarriott@aurora.edu

Teaching Philosophy
Special Education is an exciting, demanding, and ever-changing field.  My life's work and passion has centered on preparing future educators to enter this honorable profession.  I strive to be a role model for students, creating a welcoming, interactive, and collaborative classroom environment where they can take risks, discuss issues openly, and demonstrate respect for others' opinions.  I believe future educators should be introduced to and have opportunities to implement evidence-based practices in real world settings and reflect upon the outcomes.  I think my responsibility is to ensure that future educators' experiences prepare them well for life beyond the university classroom.

Education
PhD, Indiana University
MS, Indiana State University
BS, Indiana State University

Areas of Specialization
Special Education – Intellectual Disabilities, Learning Disabilities, Emotional/Behavioral Disorders
Inclusive Education
Early Childhood Special Education
Social and Emotional Development of Young Children

Courses Taught
SPED2120 Characteristics and Identification of Disabilities and the Law
SPED3560 Reading Methods: Differentiating and Direct Instruction
SPED4550 Reading Disabilities: Theory and Intervention
SPED4610 Written Language Development and Disorders
SPED6560 Unified Field Experience
ECS3400 Methods and Practices for Infants and Toddlers
ECS3410 Methods and Practices for Preschoolers

Highlights of Publications, Honors and Professional Contributions
Presentations:
Garriott, P., & Osborne, C.  (February, 2014).  "Using Student Developed Case Studies to Enhance Engagement and Problem Solving Skills of Preservice Teachers."  Learning Disabilities Association Conference, Anaheim, CA.
Garriott, P., & Osborne, C.  (February, 2013).  "If You Tell a Good Story, They Will Listen."  Learning Disabilities Association Conference, San Antonio, TX.
Garriott, P., Clark, D., & Osborne, C.  (November, 2010).  "Using Case Study Instruction to Enhance Active Participation and Problem-Solving Skills of Teacher Candidates."  Teacher Education Division of the Council for Exceptional Children (TED) Conference, St. Louis, MO.
Publications:
Garriott, P. P., Snyder, L.E., Tennant, L., & Ringlaben, R.  (2004).  If it takes a village, then we'd better educate the villagers:  Preservice teachers' attitudes and beliefs about the inclusion of students with severe disabilities.  The Electronic Journal of Inclusive Education, 1(8).
Garriott, P. P., Snyder, L. E., & Miller, M.  (2003).  Preservice teachers' beliefs about inclusive education:  What should teacher educators know?  Actionin Teacher Education, 25(1), 48-54.
Snyder, L., Garriott, P., & Aylor, M.W.  (2001).  Inclusion confusion: Putting the pieces together.  Teacher Education/Special Education, 24(3), 198-218.
Garriott, P., Wandry, D. & Snyder, L. (2000).  Teachers are parents, parents as children:  What's wrong with this picture?  Preventing School Failure, 45(1), 37-43.

Highlights of Campus Involvement
Undergraduate Curriculum Committee