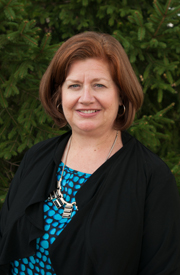 Dean of Latino/a Initiatives
Office Location: Eckhart Hall 104C
Phone Number: 630-844-6259
Email Address:
eserrano@aurora.edu
Teaching Philosophy
I aim to build on the social and cultural capital of students both inside and outside of the classroom. I am a student-centered educator, and I offer challenge and support to students in order to activate student engagement and learning. I also encourage a sense of belonging through my teaching and co-curricular activities because research points to this strategy as a key ingredient for retention of students on college campuses.
Education
EdD, Northern Illinois University
Certificate, JFK School of Government, Harvard University
EdS, Northern Illinois University
MBA, University of Dallas
BA, Mundelein College of Loyola University Chicago
Areas of Specialization
Identity development among U.S. Latinos/as
Status of Latinos/as in higher education
Role of parent involvement in supporting educational attainment among U.S. Latino/a students
Acculturation and assimilation of U.S. Latinos according to generation
Courses Taught
Elementary Spanish
Elementary French
Introduction to Latino Cultural Studies
Latina Writers
Latin American Civilization and Culture
Culture, Diversity, and Expression
Qualitative Research Methods
Diversity in Curriculum
Highlights of Publications, Honors and Professional Contributions
Puente, S., Zurita, M., Serrano, E., & Castro, V. (2004). Strategies for Success: Cicero Education Forum Summary. Notre Dame, IN: University of Notre Dame, Institute for Latino Studies.
Faculty Fellow, American Association of Hispanics in Higher Education, 2012
Fellow, National Hispana Leadership Institute, 2005
Highlights of Campus Involvement
Faculty Advisor, Latin American Student Organization (LASO)
Member, Faculty Athletic Committee
Past Member, Faculty Academic Standards and Conduct Committee