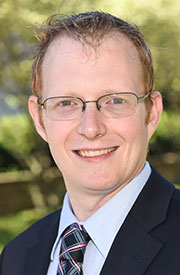 Assistant Professor of Political Science

Office Location: Dunham Hall 223
Email: mdabros@aurora.edu

Teaching Philosophy
Through traditional lectures, multimedia presentations, class discussions, theoretical and applied readings, experiential teaching, and course assignments, I not only hope to spark in students a love of independent, life-long learning, but also to encourage them to develop the human capital that maximizes their scholarly potential; namely, content area knowledge about the practical and theoretical aspects of politics, society, and economics, and the skills that permit them to analyze complex social phenomena and real world problems. Along the way, I also expect my students to acquire the written, oral, and methodological skills and individual initiative demanded by graduate schools and employers.

Education
PhD, Political Science - Purdue University
MS, Economics - Purdue University
MA, Political Science - Purdue University
BA, Political Science - Aurora University

Areas of Specialization
American Politics (Legislatures, Public Opinion, Political Behavior)
Political Economy
Public Policy

Courses Taught
Designing Political Campaigns
Introduction to American Government
Introduction to Public Policy
State and Local Government

Highlights of Publications, Honors and Professional Contributions
Careers after Congress: Do Jobseeking Legislators Shortchange Constituents? (Praeger Publishers, 2017). The book is described at the following site: http://www.abc-clio.com/ABC-CLIOCorporate/product.aspx?pc=A4891C

"Congressional Jet-Setting: Lame Duck Travel and Majority Party Advantage in the House," with Andrew P. Nelson, Public Integrity 18, 2016 (pp. 185 – 200).
"Assessing the Stability of Trust in Government across Election Periods," with Suzanne L. Parker and Mark W. Petersen, Social Science Quarterly 96, 2015 (pp. 996 – 1011).
"Explaining Final Term Changes in Congressional Foreign Travel," The Journal of Legislative Studies 21, 2015 (pp. 428 – 446).
"Not Created Equal: Institutional Constraints and the Democratic Peace," with Mark W. Petersen, International Politics Reviews 1, 2013 (pp. 25 – 36).
"The Labor Market for Politicians: Why Ex-Legislators Gravitate to Lobbying," with Glenn R. Parker and Suzanne L. Parker, Business and Society 51, 2013 (pp. 365 – 387).
"Last-Period Problems in Legislatures," with Glenn R. Parker, Public Choice 151, 2012 (pp. 789 – 806).