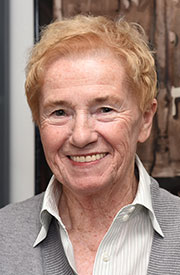 Professor of Sociology

Office: Eckhart Hall 410
Phone Number: 630-844-5408
Email Address: bstrass@aurora.edu

Teaching Philosophy
I prepare students for global citizenship; the knowledge of social issues, sociological mindfulness, and the ability to practice sociology shape them into highly skilled agents of change. They learn how to generate empirical data and to interpret them using sociological theories. They also are invited to propose creative solutions to various local, national and global social problems.  Human rights, social, political, and cultural rights, as well as issues of social justice constitute the core values of sociology courses. Respect for variety of perspectives and invitation to think both critically and creatively constitute the pillars of my teaching philosophy.

Education
Jagiellonian University, Krakow, Poland - Post-Doctoral Degree in Sociology, The University of Chicago - post-doctoral studies, Jagiellonian University - Ph.D. in Sociology, Ecole Superieur des Hautes Etudes en Sciences Sociales, Paris - doctoral studies, Jagiellonian University - MA in Sociology, MA in English and American Literature.

Areas of Specialization
Political Sociology
Sociology of Culture
Globalization
Transnationalism
Human Rights
Gender and Sexuality
Intimate Relations
Global Health Challenges

Courses Taught
Introduction to Society
Human Rights and Social Justice
Globalization and Social Change
Race, Ethnicity and Power
Gender, Sexuality and Society
Politics of Intimate Relations
Politics of Global Health and Medicine
Seminar in Sociological Theory I and II
Social Problems and Public Policies
Genocide in Global Perspective
Terrorism in Global Perspective
Cultural Anthropology
Science and Religion
Sociology of Religion

Highlights of Publications, Honors and Professional Contributions
Books:
Kosciol w Procesie Asymilacji Polonii Amerykanskiej (The Church in the Process of Assimilation of Polish Americans) Wroclaw: Ossolineum 1981, 299 pp. (Two Awards: the Polish Academy of Sciences & the Polish National Catholic Church). Religijnosc Spoleczenstw Przemyslowych: Studium Porownawcze Francji i Wielkiej Brytanii     (Religiosity of Industrial Societies. A Comparative Study of France and Great Britain, Warsaw: Polish Scientific Publishers, 1977, 262 pp. Creator-Co-creator, chapter in Runehov, Anne & Lluis Oviedo (Eds.), (2013 LVIII) Encyclopaedia of Sciences and Religions, Springer-Verlag, NY (1628 words); Malinowski, Bronisław, Tłumaczenie słów nie dających się przetłumaczyć, in Antologia polskiej myśli przekładoznawczej (Anthology of Polish Theory of Translation), edited by Heydel, Magda and Piotr Bukowski, published by Jagiellonian University Press, Krakow, Poland 2013, 4762 words; An Interpretation of Our Times: The Transnational Family and the Nation-State, in Babinski, Grzegorz & Maria Kapiszewska (eds). 2009. Zrozumiec Wspolczesnosc (To Understand Our Times). Krakow: Oficyna Wydawnicza AFM. Pp.123-139; "The New Responsibilities of Social Sciences in Ageing Societies. The Case of Spain," with Montserrat Guillen and Nuria Rodriguez. International Journal for Interdisciplinary Social Sciences, vol. 2 11/23/2007.      Contemporary Multicultural Perspectives on Issues in Science and Religion, in Dalai Lama, Gary Laderman & Aari     Eisen (eds.) 2007. Science, Religion, & Society: An Encyclopaedia of History, Culture, and Controversy, M.E. Sharpe."Magic, Religion, Science, Technology, and Ethics in the Postmodern World," Zygon, Journal of Science & Religion, vol. 42, no. 2, June 2005, pp. 307-322."Terror of the Pandemic and the Pandemic of Terror,"  Zygon. Journal of Religion and Science, vol. 39, no. 2, June 2004, pp. 435-463. "The Plague of Blood. HIV/AIDS and Ethics of the Global Healthcare Challenge", Zygon. Journal of Religion and Science, March 2003 ."Religion and Science. The Embodiment of the Conversation", Zygon. Journal of Religion and Science, September 2001."Experiencing Violence, Shaping Identity, Negotiating Life" Cross Currents, Winter 1999-2000; 2007- Aurora University Trumbo Award for Teaching Excellence, 2007- Student Advocate Award

Highlights of Campus Involvement
Faculty advisor for AU Pride Alliance; member of the FPC; involved in mentoring full-time junior faculty and adjuncts; mentored students and supervised their internships; developed and revised a number of times the sociology program (as one full-time sociology faculty since 1996); revised political science program, served as chair of the sociology and political science department (2012-2014), collaborated in the creation of the Gender Studies, International Studies and the American Culture Studies minors, served as Director of International Programs (2010-2013) and developed international student exchange programs with three European universities, initiated Student Research Conference,  conducted a Religion and Science lecture series from 1997 to 2004, and was involved in many other initiatives at AU since 1991.