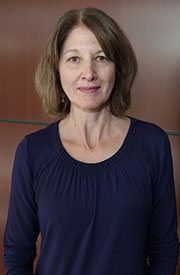 Professor of Psychology    
Office Location: Institute for Collaboration, Room 311
Telephone: 630-844-6531
Fax: 630-844-6182
Email Address:  vflynn@aurora.edu
As a developmental and school psychologist, I have spent considerable time working to improve both education and mental health for children, adolescents, and young adults.  I enjoy the interactions of the classroom and believe that students of all ages need to be actively engaged in their own learning.  The college years are among the most exciting but also the most demanding times in life, and one of the truly exciting parts of my job is helping to mentor students as they navigate these challenges.
Education

Ph.D. Psychology-Northern Illinois University, Dekalb, IL
M.A. Psychology-Columbia University, NYC
B.A  Psychology--University of Colorado, Boulder, CO
Areas of Specialization

School Psychology
Developmental Psychology
Courses Taught

General Psychology
Child and Adolescent Development
Brain and Behavior
Exceptional Individual
Contemporary Issues in Psychology
Highlights of Publications, Honors and Professional Contributions

Marcus and Mark H. Trumbo Excellence in Teaching Award
Masur, E.F., and Flynn. V. (2008). Infant and mother---infant play and the presence of the
television. Journal of Applied Developmental Psychology, 29, 76-83.
Flynn, V., & Masur, E. F. (2007). Characteristics of maternal verbal style:  Responsiveness and
directiveness in two naturalistic contexts. Journal of Child Language, 34, 519-543.
Masur, E.F., Flynn, V., & Eichorst, D. (2005).  Maternal responsive and directive behaviours and
utterances as predictors of children's lexical development, Journal of Child Language,
32, 63-91.
Flynn, V., Masur, E. F., & Eichorst, D. (2004).  Opportunity versus disposition as
predictors of infants' and mothers' verbal and action imitation.  Infant Behavior and
Development, 27, 303-314.
Highlights of Campus Involvement

Campus Coordinator for the Wingspread Scholars Program
Psi Chi Member
Phi Eta Sigma Honorary Member, 2002
Other Interests

Tennis
Skiing
Spending time with family