Associate Professor of Psychology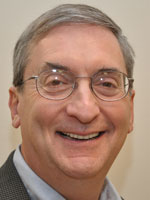 College of Arts and Sciences
Office Location: Institute for Collaboration, Room 303
Telephone: 630-844-4893
Fax: 630-844-6182
Email Address: tshapiro@aurora.edu
I have worked at nine institutions of higher education doing counseling, advising, administration, and teaching so I think I have a broad perspective.  I have been staff and now I am faculty.  Some people have said I have gone over to the dark side of the force but I prefer to think of it as seeing the big picture.  I love teaching and I love working with students.  I try to bring humor and sensitivity to my classroom and teach them something in the process.  I am a licensed clinical psychologist and I have a private practice in Lombard.
Education:
PhD - University of Iowa
BS - University of Illinois
Areas of Specialization
Counseling/clinical psychology
Individual, marital and family, career counseling
Stress Management
Helping people in job transition
Courses Taught
All psychology:
General (Intro), Abnormal, Statistics, Experimental, Industrial/Organizational, Lifespan Development, Adolescent Development, Educational Psychology, Organizational Behavior, Group Counseling, Objective Assessment, Family Counseling, Personality, Practicum
Highlights of Publications, Honors and Professional Contributions:
I was on the board of directors of the Illinois Marital and Family Therapy Association.  I don't remember the dates.
Highlights of Campus Involvement
I  just got here!  At St. Xavier University I was involved with Psi Chi (psych students honors organization) and I am starting to get involved in it here.  At SXU I sat on the Alcohol and Other Drug Prevention Committee and the student discipline committee.
Other Interests
Singing and playing guitar.
Being involved in the Jewish community.