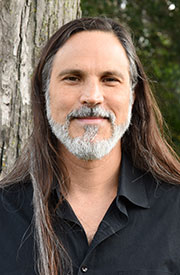 Associate Professor of Philosophy
Chair of the Department of Philosophy and Religion
College of Arts and Sciences
Office Location: Eckhart Hall, Room 415
Telephone: 630-844-4239
Email Address: mwalter@aurora.edu
I'm interested in the role language plays in our understanding of our lives and the world, and for that reason I'm particularly keen on working over concepts related to representation, articulation, and the ways and means of meaning.  
Of course, that might not be amazingly interesting to you, especially if you're perusing this page expecting (quite naturally) a soundbite from the person in the nice photo over there. So let me begin again.
I teach philosophy here, which means that I spend a good amount of time trying to open up different ways of thinking.  But thinking is a form of representation - it's how you present your world to yourself and others.  I think it is worthwhile to accord some attention to how that works.  That's my idea of fun and the reason why I get so hung up on words.  (Take one of my classes and you'll see what I mean.)
In my off time, I'm pretty much like everyone else.   But what does that mean, anyway?
Education
PhD Philosophy, DePaul University
BA Liberal Studies, University of Pittsburgh
Areas of Specialization
Modernity
Language
Aesthetics
Ancient Philosophy
Contemporary Continental Philosophy
Courses Taught
Problems of Philosophy
Ethics
Philosophy and Modernity
Modern Political Philosophy
Philosophy and Art
Existentialism
Culture, Diversity, and Expression
Mythos (travel-study Greek mythology course)
The Consequences of Raising Hell (course on the Faust figure in art).