Crimi Auditorium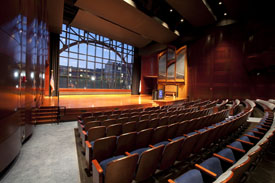 Crimi Auditorium in the Institute for Collaboration includes 500 seats on the floor and balcony, a state-of-the-art audio visual system, and 1,230-pipe organ. The auditorium is named in recognition of service by the late Dr. James E. Crimi, Aurora College (AC) president from 1962 to 1973, and his wife, Pauline.
Létourneau Pipe Organ - Opus 119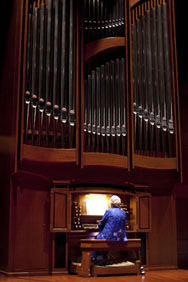 In August 2010, the university completed installation of a 1,230-pipe, custom-designed organ in Crimi Auditorium that expanded AU's growing music program and live performance offerings. The organ, which was funded by an anonymous gift of $200,000 and more than 100 other smaller gifts from donors in 30 states, was constructed by Létourneau Organs of Saint-Hyacinthe, Quebec.
The organ stands in a free case stage left in Crimi Auditorium and extends over 23 feet to the ceiling. An electric blower assembled in the wings will provide air pressure to fill the pipe chests. The organ's 34 visible façade pipes are polished lead-tin alloy and arranged in three vertical bays topped with arcs to complement the arches of the Crimi windows. The two manual keyboards are made of Sitka spruce with overlays of polished bone and ebony.  The 18 stops (23 ranks) of the organ were chosen to provide the rich, full sound associated with pipe organs at celebratory events, such as the 8' trumpet, the 16' trombone and two brilliant mixture stops. The organ's tonal palette offers an array of sound colors, such as the diapason, flute, oboe, and gamba.  The pipe organ brings the value and power of a stunning musical instrument, standing as a symbol of Aurora's commitment to cultivate the finest traditions of the past and inspire the artistic innovation for the future.
Perry Theatre
Perry Theatre in the Community Foundation of the Fox River Valley Center for Community Enrichment includes a state-of-the-art stage with impressive lighting and sound systems. The theatre can accommodate an audience of 200 and provides an intimate setting .
Perry Theatre was renovated in 2006 through a generous grant from the Aurora Foundation (now the Community Foundation of the Fox River Valley). The building, with its impressive, multi-arched façade and spacious lobby, is named in honor of former Aurora College Dean Stanley H. Perry.
Parolini Music Center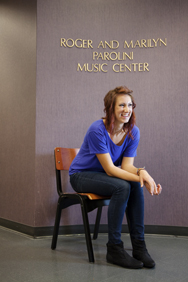 Music classes, lessons and practice facilities are located in Parolini Music Center on the north end of campus just east of Dunham Hall. The center was renovated in 2006, with the support of a generous gift from Marilyn and Roger Parolini.