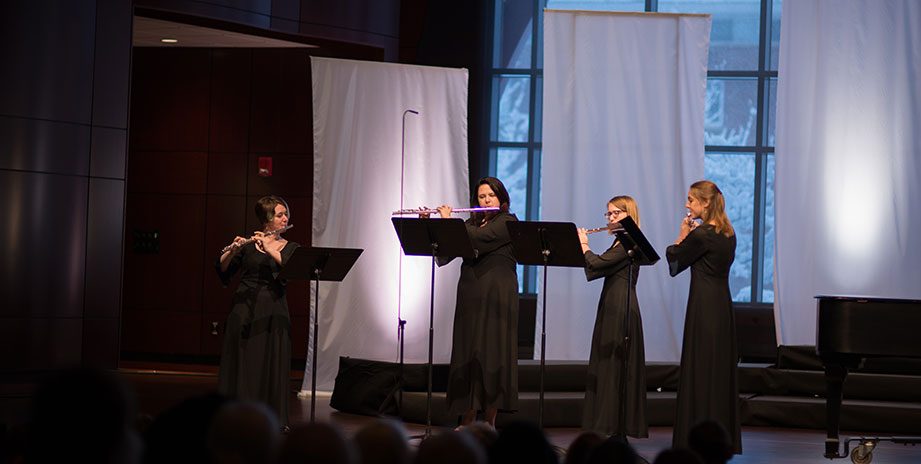 We welcome musicians of all levels of experience, both music majors and non-music majors, in the AU Instrumental Ensembles. All new members must schedule an audition with the director of the program. Auditions are simple, designed to be stress-free and will assist the professor in placing you in the optimum ensemble for your skill level. 
Audition for Band
Play an etude or piece that displays both technical and lyrical passages (can be two separate pieces, if needed. Selected memorized scales preferably, in 2 octaves from Bb, Eb, Ab, Db, G, C and F major scales and a chomatic scale.
Audition for Flute
Play any solo or etude of the student's choice, demonstrating technical and rhythmic ability and the following scales:
G Major scale, 2-octaves, memorized
D Major scale, 2-octaves, momorized
C Chromatic scale, 1-octave, memorized
Sight reading
MUS1930 03 AU Band
Experienced wind, brass and percussion players may audition to join the AU Band. The AU Band plays popular music and concert band music at selected football, basketball and volleyball games on campus. Rehearsals are Monday and Wednesday evenings in Parolini Music Center. To audition, contact Jennifer Mills.
MUS1930 02 AU Flute Choir
Flute choir is an opportunity for flutists to play in an ensemble and perform in student concerts on campus. Directed by Ms. Heidi Hendricks, this group is the newest addition to AU's performing ensembles. To audition, contact Ms. Hendricks.