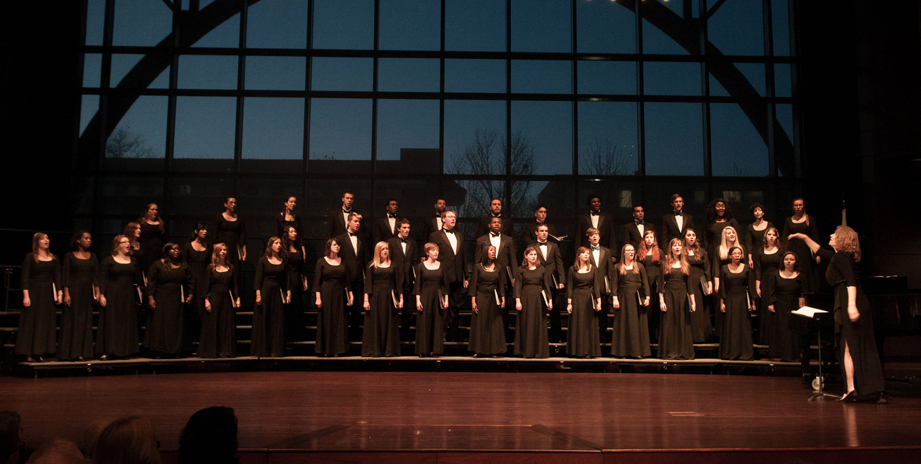 The AU Choirs are close-knit communities comprised of singers of all levels of experience. All new members must schedule an audition before enrolling in the course. Auditions are simple and designed to be stress-free. They will assist the professor in placing you in the optimum ensemble for your skill level as well as helping to establish your vocal range and choral section. You need not be an accomplished soloist to participate.  
Audition procedure:
Sing a few warm-ups/vocalize to establish range
Sing tonal memory exercises (sing back a melody played by the piano)
Sing a familiar song such as "My Country 'Tis of Thee" or something you have worked on with your voice teacher if you have had lessons before.
Sight read a short example of music.  (Sight reading will not keep you from participation in choir)
Please note: Singers may not be added to an ensemble after the first week of classes each semester.
For more information or to schedule an audition, please contact:
Dr. Lisa Fredenburgh
Associate Professor of Music, Program Chair and Director of Choral Activities
630-844-4577
lfredenb@aurora.edu
Ensembles
MUS 1910 University Chorale
Director: Dr. Lisa Fredenburgh
Rehearsals: M/W/F 12:00-1:05pm
1 semester credit
Open to singers regardless of major, the AU Chorale focuses primarily on vocal skills and the creation of a unified choral sound. Members experience a variety of choral music, ranging from renaissance to contemporary, with the mission of preparing quality choral literature for performance and education. A dedication to excellence makes the Chorale an exciting and rewarding place to be!
MUS 1930 Chamber Choir
Director: Dr. Lisa Fredenburgh
Rehearsals: MWF 1:00-2:00pm
1 semester credit
Open by audition only, the Chamber Choir is an ensemble for those craving a challenge. The group performs advanced literature from all periods, and strives for precise intonation, innovative interpretation, and vocal unity. Auditions are held during the first week of February, and by special arrangement in the fall. All Chamber Choir members must also be enrolled in MUS 1910 University Chorale.
Men's Quartet
Director: Dr. Mark Plummer
Rehearsals: once a week (day & time vary by semester)
The AU Men's Ensemble is a volunteer group just for men. Performing music written especially for the genre of male quartet that spans the centuries, the AU Men's Quartet serves as campus ambassadors at a variety of campus functions. This group carries a high honor and is chosen by audition.