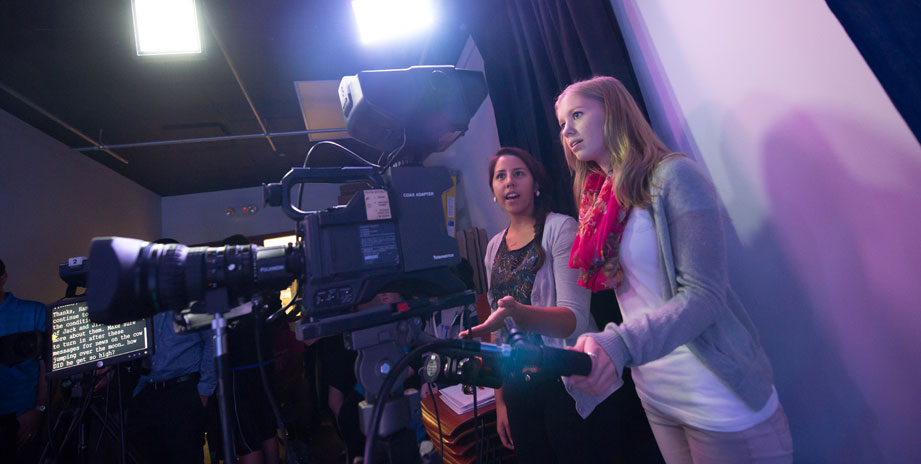 We are not currently accepting new applications for this program. Please contact the Office of Admission at 630-844-5533 or admission@aurora.edu for additional information.
A degree in media studies builds upon the core competencies of the communication program to develop the critical mind, aesthetic sensibilities, and technical skills needed to work and create in modern media industries. Students of the media studies program have the opportunity to gain practical experience in many areas of media design and development, such as broadcast production for television and radio, digital graphic design, multimedia journalism, and cinematic film production. Students will exit the program with a high degree of technological facility in multiple modes of message delivery, but they will also gain an education grounded in the liberal arts tradition, along with demonstrable abilities in critical analysis, mass media writing and research, project management, and professional leadership.
Students will engage in a sequence of courses designed to develop their skills over multiple years of study. Media studies courses are structured around challenging, creative projects that reflect the kinds of work done in the industry, so that students will leave with well-developed portfolios that showcase their abilities. A student may spend a term writing, directing, and editing a short documentary film or working on a team to design a comprehensive brand identity package for an organization. The diverse skill sets that are fostered in the media studies program will prepare students for the dynamic, constantly evolving mass media workplace.
The program culminates in an intensive senior experience, which combines a major individual project with a year-long residency as a member of the university's digital media outlet. Students also have the option to complete an internship with one of the many professional media organizations in the Chicago area.
Program Overview
To earn an undergraduate degree in media studies, you will complete at least 120 semester hours total in general education, communication and media studies courses.
The Bachelor of Arts in Media Studies includes:
40 semester hours, including 20 semester hours of core communication courses, 12 semester hours of media studies major-approved electives and an eight-semester-hour media studies senior experience