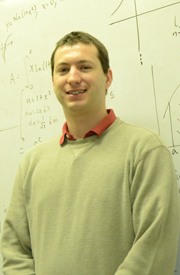 Assistant Professor of Mathematics
Mathematics and Computer Science Department
Stephens Hall 281A
Telephone: 630-844-5265
Email Address: swyman@aurora.edu
I love mathematics for its ability to train the mind. The study of mathematics teaches us to question our assumptions, explore new avenues, and justify our conclusions; it also gives us methods for doing these things. I believe that all students can learn mathematics at a high level and benefit from their mathematical training. I hold students to high standards which they are fully capable of meeting and give them the support they need to reach their goals. Students in my classes will participate in the mathematical enterprise and learn not only useful mathematical facts, but ways of thinking that can be applied throughout their lives.

Education
PhD, University of Florida
MS, University of Florida
BS, Case Western Reserve University

Areas of Specialization
Computable Analysis
Computability Theory
Logic

Courses Taught
Abstract Algebra
Calculus I, II and III
College Algebra
Number Theory
Precalculus

Highlights of Publications, Honors and Professional Contributions
Publication: Sebastian Wyman. Conservatively approximable functions. In Sergei Artemov and Anil Nerode, editors, Logical Foundations of Computer Science, volume 7734 of Lecture Notes
in Computer Science, pages 387-400. Springer Berlin Heidelberg, 2013.

Invited Presentation: Douglas Cenzer and Sebastian Wyman*. Symbolic Dynamics in the Arithmetic Hierarchy. Knots in Washington XXXV, George Washington University, Fall 2012.

Project NExT Fellow 2013–2014.

Mathematics Graduate Student Teaching Award 2013.

Highlights of Campus Involvement
Mathematical Sciences Association Advisor 2013–present.