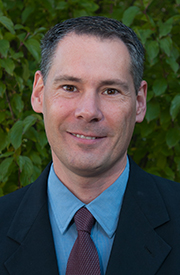 Professor of Marketing, Director of Graduate Programs
Office Location: Dunham Hall, Room 232
Phone Number: 630-844-6554
Email: bvanders@aurora.edu
Teaching Philosophy
Before becoming a full-time member of the faculty, I spent several years as a vice president of enrollment management at two different colleges. I use this experience in my research focused on marketing of higher education. I also investigate innovations in marketing education. In the classroom I highlight active learning where students engage in the material by applying course concepts to practical marketing situations. I further refine my skills through my involvement with the Marketing Management Association.
Education
PhD, Higher Education Administration - University of Connecticut
MBA, Management - Northcentral University
MA, Professional Counseling - Liberty University
HonBSc, Human Biology - University of Toronto

Areas of Specialization
Marketing Research
Consumer Behavior
Courses Taught
Principles of Marketing
Marketing Research
Consumer Behavior

Highlights of Publications, Honors and Professional Contributions
Marketing Management Association Hormel Foods Master Teacher Award, 2014
Lamb-Hair-McDaniel Academy of Marketing Science Outstanding Marketing Teacher Award, 2013
American Marketing Association Summer Educators' Conference Best Paper Award - Marketing Education and Teaching Innovation Track, 2012
Society for Marketing Advances St. Mary's University Distinguished Teaching Competition Winner, 2012
American Marketing Association Pearson Prentice Hall Solomon-Marshall-Stuart Award for Innovative Excellence in Marketing Education Winner, 2012
Marketing Management Association Spring Conference Best Paper Award - Marketing Education Track, 2012
Cengage Learning Marketing Management Association Fall Educators' Conference Best Refereed Paper Award, 2011
Society for Marketing Advances Pride-Ferrell Cengage Innovations in Teaching Award Winner, 2010

Elbeck, M., & Vander Schee, B. A. (2014). Global benchmarking of doctoral program faculty and institutions by sub-area. Journal of Marketing Education, 36(1), 45-61."

Vander Schee, B. A. (2013). Test item order, level of difficulty and student performance in marketing education. Journal of Education for Business, 88(1), 36-42.

Vander Schee, B. A. (2012). The influence of new product characteristics on rate of adoption: Increasing student comprehension using Bidding for Buyers game. Journal of Marketing Education, 34(3), 251-264.

Vander Schee, B. A. (2011). Marketing classroom spaces: Is it really better at the front? Marketing Education Review 21(3), 191-200.

Vander Schee, B. A. (2011). Let them decide: Student performance and self-selection of weights distribution. Journal of Education for Business, 86(6), 352-356.

Vander Schee, B. A. (2010). Students as consumers: Programming for brand loyalty. Services Marketing Quarterly, 32(1), 32-43.
Highlights of Campus Involvement
American Marketing Association AU Collegiate Chapter Advisor, 2008-present