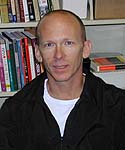 Professor of History

Office Location: Dunham Hall, Room 217
Telephone: 630-844-5615
Fax: 630-844-7820
Email Address: gbutters@aurora.edu

Aurora University is all about the connections between faculty members and students.  As a first generation college student, I was not aware of the opportunities and challenges that a university education would present.  I attempt to get to know each of my students personally and I frequently ask them what their career plans are, so that I can hopefully assist them in achieving their goals.

Education
PhD (History) - University of Kansas
MA (History) - University of Missouri-Kansas City
BA (History and Political Science) - Washburn University

Areas of Specialization
Film History
U.S. Social and Cultural History
Gender and Race

Courses Taught
The African American Experience
U.S. History I and II
American Urban History

Highlights of Publications, Honors and Professional Contributions
Freeman Institute Fellowship, Tokai University, Honolulu, Hawaii, 2012
Fulbright Award, Romania, Spring 2011
Co-Chair, African/African American Caucus - Society for Cinema and Media Studies, 2009-2011
Timuel D. Black Fellowship, Carter G. Woodson Library, 2010
Book - "Banned in Kansas: Motion Picture Censorship, 1915-1966," (Columbia: University Press of Missouri, 2007).
Book - "Black Manhood on the Silent Screen," (Lawrence: University Press of Kansas, 2002)
Editor - "Screening Noir: Blaxploitation Revisited," vol. 1, no. 1 (Fall/Winter 2005) Center for Black Studies, University of California, Santa Barbara.
Highlights of Campus Involvement
Meritorious Faculty Award, 2012
Advisor, Alpha Phi Alpha (2006-)
Student Advocate of the Year Award, 2005
Outstanding Supporter Award, Black Student Association

Other Interests
Running with my colleagues at AU.
Movies
Travel