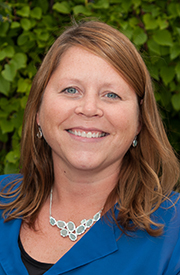 Office Location: Alumni Hall 133
Phone Number: 630-844-5113
Email Address: sradtke@aurora.edu

Teaching Philosophy
My teaching philosophy is grounded in student-centeredness and student-self directedness. This lends itself to the close-knit culture of Aurora University.  I consider myself an advocate for my students. I take pride in mentoring students and advising the athletic training student organization. I work hard to ensure my students receive a high-quality education through the integration of adult learning theory into my coursework and instructional strategies. This practice is informed by my research interests in clinical education, student self-directed learning in athletic training education and the integration of adult learning theory into athletic training curriculum and pedagogy.

Education
EdD, Adult and Higher Education - Northern  Illinois University                 
MSEd,  Exercise Physiology - Northern  Illinois University
BS, Athletic Training and Health Promotion/Wellness - University of Wisconsin-Stevens Point

Areas of Specialization
Athletic Training Clinical Instructional Models
Athletic Training Injury Prevention and On-Site Injury Management
Kinesiology
Therapeutic Exercise and Manual Therapy Techniques for Orthopedic Injuries       

Courses Taught
Prevention and Care of Athletic Injuries and Illnesses
Therapeutic Exercise
Administration in Athletic Training
Kinesiology
Global Justice

Highlights of Publications, Honors and Professional Contributions
"Student Self-Directedness in an Athletic Training Administration Course", Lilly Conference, Bethesda, MD 2014                                                                                                                                    
"A Theoretical Framework for Clinical Instruction." Great Lakes Athletic Trainers Association Annual Conference, 2013.
Textbook review: "Clinical Kinesiology and Anatomy, 5th edition by Lynn S. Lippert," Journal of Athletic Training, 2011

"Creating Learning Communities in Athletic Training Rooms," Illinois Athletic Trainers' State

Reviewer, Journal of Athletic Training, 2010 – present                            

Reviewer, Athletic Training Education Journal, 2010 – present                     

"The perceptions of newly certified athletic trainers regarding transfer of learning into the workplace," Athletic Training Educators' Conference, 2008                                                               
"A conceptual framework for athletic training clinical education," Athletic Training Education Journal, 2008                                                                                                                           
"Current trends in prophylactic taping and bracing for the ankle," Current Trends in Sports Medicine Symposium, 2006

Highlights of Campus Involvement
Faculty Liaison for Women's LaCrosse Team, 2014–present
Faculty Development Committee, 2010–present
Governance and Election Committee, 2014–present
Faculty Senate, 2012–2014
Athletic Training Student Mentor Program, 2009-2013
Clinical Education Coordinator, 2001–2013
Spartan Athletic Training Student Organization Advisor, 2003–present            
General Education Committee, 2005-2008
Academic Standards and Conduct Committee, 2008–2010
Healthy Living Council, 2008–2010