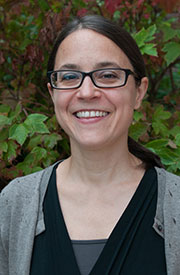 Associate Professor of English
Office Location: Eckhart 411
Telephone Number:x3842
Email Address: sgerend@aurora.edu
Teaching Philosophy
As an English instructor, I encourage my students to become sharp critical thinkers, careful close readers, clear and engaging writers, and motivated life-long learners. My goal as an instructor is to empower students in their relationship to all kinds of texts.
Education
PhD, English, University of California, Santa Barbara, 2004  
MA, English, University of California, Santa Barbara, 1998
BA, English, University of Wisconsin, Milwaukee, 1996
Areas of Specialization
British and American Modernism
Twentieth-Century British and Postcolonial Literature
Gender Studies
Courses Taught
British Literature IV: Modernism to the Present
British Literature III: Romantics to Modernism
British Literature II: Renaissance to the Romantics
British Literature I: Anglo-Saxons to the Renaissance
Racial and Ethnic Themes in Literature
Comparative Literature
Introduction to Literary Study
Culture, Diversity, and Expression
Introduction to Research Writing
Introduction to Academic Writing
Highlights of Publications, Honors and Professional Contributions
Performance Review: The Iceman Cometh, directed by Robert Falls. Goodman Theatre, Chicago 2012. Eugene O'Neill Review, Vol. 34, No. 1, 2013, pp. 117-121.
"Super-Size Me: Ritual as Affluenza in Julia Alvarez's Once Upon a Quinceañera," Inhabiting La Patria: Identity, Agency, and Antojo in the Work of Julia Alvarez, eds. Rebecca L. Harrison and Emily Hipchen. Binghampton: SUNY series in Multiethnic Literature, 2013.
"My Son, My Son!: Paternalism, Haiti, and Early Twentieth-Century American Imperialism in    William Faulkner's Absalom, Absalom!" The Southern Literary Journal Vol. 42.1 (Fall 2009): 17-31.
Highlights of Campus Involvement
Faculty Sponsor of AU's Alpha Iota Chi Chapter of Sigma Tau Delta (English International Honors Society)
ESOL Tutor, Dominican Literary Center, Aurora, IL