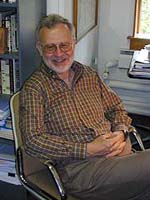 Professor of English; Chair, Fine Arts Division
English/Fine Arts

Office Location:  Eckhart Hall, Room 404
Telephone:  630-844-4881
Fax:  630-844-5242
Email Address:  rwestpha@aurora.edu
Richard Westphal has been a member of the Aurora University English Department since 1971. In addition to teaching a wide range of English courses, he introduced film studies courses into the curriculum and developed a course built around a week's theatre-going in London.  His teaching is in all cases designed to encourage, and challenge, students to do genuine intellectual work, not just absorb and repeat information.  Starting in the mid '70s, Westphal has regularly appeared in student and faculty-staff drama productions on campus and, more recently, participated in productions staged by a professional theatre company in residence at the university.
Education
B.A, Boston College
M. Phil., Yale University
D. A., Illinois State University

Areas of Specialization
Contemporary Literature
Literacy Studies
Rhetoric and Composition

Courses Taught
Freshman Composition
Advanced Academic Writing
Language, Literacy, & Cognition
Critical Approaches to the Study of Literature
The Novel
Contemporary World Literature

Highlights of Publications, Honors and Professional Contributions
"When the Screaming Stops: A Look at Blow-Out."  Post-Script 2 (1982): 30-39.
NEH Summer Seminar, "Style and the Structure of Discourse," University of Chicago,
    1985.
"Where Two Stories Cross: A Writing Assignment and What It Reveals," 4C's Annual
    Conference, 1994
"The Writer's Journey in V. S. Naipaul's The Enigma of Arrival," Annual Convention of the
    Midwest Modern Language Association, 2004.
"The Refusal of Empathy: Ethical Action in W. G. Sebald's The Emigrants," Annual Convention
    of the College English Association, 2007.

Highlights of Campus Involvement
Served several terms as Chair of the Faculty, University Assembly, and Faculty Senate
Served several terms as Faculty Ombudsperson
Chaired Faculty Personnel, Governance & Elections, and Faculty Affairs Committees
Served several terms on Faculty Senate
Co-Chaired Semester Conversion Task Force

Other Interests
Participated in Theatre Dept. productions for over 30years.
Appeared frequently in Borealis Theatre Company (professional theatre company in
    residence at AU 1995-2002) productions.