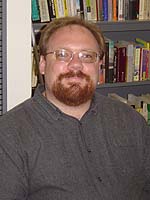 Associate Professor of English     
College of Arts and Sciences
Office Location: Eckhart Halll, Room 405
Telephone: 630-844-5228
Fax: 630-844-5242
Email Address: dgwinner@aurora.edu
Before joining the Aurora University faculty in the fall of 2004, I taught composition, literature, and humanities courses at several institutions, including Portland Community College (OR), Washington State University at Vancouver, and, as a post-doctoral teaching fellow, the University of Oregon.  Throughout my teaching career, I have emphasized student-centered instruction to encourage and challenge learners to be active and self-directed in pursuing their educations.           
Education
B.A. in Arts and Letters, University of Oregon
M.A. and Ph.D. in English Language and Literature, University of Arizona
Areas of Specialization
19th- and 20th-century American Literature
Multi-Ethnic American Literatures
Composition
Courses Taught
English Composition
Interdisciplinary Studies
Introduction to Literary Study
The Novel
Critical Approaches to Literature
American Literature
Comparative Literature
Racial and Ethnic Themes in Literature
The Western in Fiction and Film
Senior Seminar
Highlights of Publications, Honors and Professional Contributions
Co-author of "Conversing Brokeback Mountain's Varied Spaces and Contested Desires," an article published in the journal Intertexts.
Highlights of Campus Involvement

Participated in the Aurora University 2008-2009 film series by introducing and leading discussion on Stanley Kubrick's Dr. Strangelove.
Other Interests
Recreating with family and friends.
Consuming media: music, film, television, sundry forms of print matter.