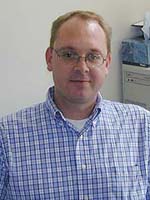 Associate Professor of English, Program Chair
English Program and Honors Program
Office Location:  Eckhart Hall, Room 410
Telephone: 630-844-4883
Fax:  630-844-5242
Email Address: dhipp@aurora.edu
I joined Aurora University's English faculty in 2000 and have enjoyed my time here working with students and colleagues immensely.  As a teaching-centered university, AU allows its faculty to work closely, both in and out of the classroom, with first year students developing college-level skills in our writing and general education courses, as well as with students in our major who are preparing for careers as teachers, or journalists, or entering the business world, or moving on to graduate school.  I have especially enjoyed the opportunity AU has given me to watch students develop as thinkers and writers over their four years here, as I have worked to have a positive impact on that development.  
Education
Vanderbilt University, Ph. D English
Villanova University, M.A. English
University of Illinois, Urbana-Champaign, B.A. English
Areas of Specialization
British Literature
Poetry
Courses Taught
Freshman Composition
Interdisciplinary Studies
Poetry
British Literature
Comparative Literature
Critical Theory and Literary Criticism
Highlights of Publications, Honors and Professional Contributions
Author of The Poetry of Shell Shock (McFarland, 2004), a study of the works and combat experiences of three British soldier-poets of the First World War.
Conference presentations on authors including Robert Frost, Elizabeth Bishop, Wilfred Owen, J. M. Coetzee, and Ian McEwan.
Highlights of Campus Involvement
Director of Aurora University's Honors Program (2005-present)
Chair of the General Education Committee (2002-2005)
First Year Faculty Advisor (2002-2006)
Faculty Sponsor of Sigma Tau Delta, English Honor Society (2001-2004)
Other Interests
Gardening
Cooking
The Chicago Cubs
NASCAR
Raising three boys