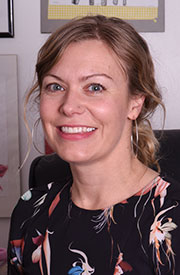 Assistant Professor of English and Co-coordinator of Gender Studies Minor
Office Location: Eckhart Hall, Room 412
Email: bbarclay@aurora.edu
I love cultivating curiosity.
Education
PhD English, University of Texas, Arlington
Areas of Specialization
American Literature, Gender Studies, Environmental Humanities, and Speculative Fiction
Courses Taught
ENG 3520 Racial and Ethnic Literatures
ENG 3370 Contemporary American Literature
ENG 3510 Gender and Literature
ENG 4990 Writing and Editing Internship
IDS 2030 Science and Society
ENG 3320 American Literature I
ENG 3350 American Literature II
ENG 3500 Contemporary World Literature
ENG 2810 Special Topics (Wonder Makes the World(s): Science Fiction as Science?)
ENG 2260 Critical Approaches
ENG 2200 The Novel
ENG 2010 Introduction to Research Writing
IDS 1600 Culture, Diversity, and Expression
ENG 1000 Introduction to Academic Writing
Highlights of Publications, Honors, and Professional Contributions
Publications and Grants
In Print
"Gender in 1950s Invasion Films." Review of Susan A George's Gendering Science Fiction Films: Invaders from the Suburbs in Extrapolation, Fall 2015.
"Making it Graphic" in The Pocket Instructor: Literature. Ed. Diana Fuss and William Gleason. Princeton University Press. 2015.
"Through the Plexiglass: A History of Museum Dioramas." The Atlantic Online. Ed. Ian Bogost and Christopher Schaberg, October 14, 2015.
"ASLE's Notes from Underground: The Depths of Environmental Arts." Conference Report. Science Fiction Research Association Review. Summer 2015.
"'Perpetually waving to an unseen crowd': Humor and Material Feminist Discourses in Beauty Queens" in Female Rebellion in Young Adult Dystopian Fiction. Ed. Sara K. Day, Miranda Green-Barteet, and Amy L.Montz. Ashgate. 2014.
Review of Dianne Newell and Victoria Lamont's Judith Merril: A Critical Study in Science Fiction Research Association Review, Spring 2013.
"'It Began This Way': The Synonymy of Cartography and Writing as Utopian Cognitive Mapping in Herland." Utopian Studies 17.2 2006: 299-316.
Grants
Dunham Faculty Develop Research Grant. "Gender in Science Fiction Ecomedia." June 2016.
Dunham Faculty Development Teaching Grant. "Development of Science Policy and Classroom Inquiry Experiences for General Education." With Sharon Miller. January 2016.
Presentations
"Camp Resistance: Animal Avatars and Gender Exaggeration in 1950s Creature Features," Association for the Study of Literature and Environment, Detroit MI, 2017.
"Through the Plexiglass: A History of Museum Dioramas," Schingoethe Center, March 2017.
Suffragette, Aurora University Arts and Ideas Lecture, November 2016.
"Satire as Resistance in Fourth Wave Material Gender Studies Rhetoric," Rocky Mountain Modern Language Association, Salt Lake City UT, 2016.
"Bitch Planet: Non-Compliance, Science Fiction, Comics, and Bad Feminism," American Literature Association, San Francisco CA, 2016.
"Gamera, Our Last Hope: Kaiju and Teaching Environmental Discourses," Association for the Study of Literature and Environment, Moscow ID, 2015.
"Desires and Daydreams: Recreating the 'Animal' in Museum Habitat Dioramas," Popular Culture Association/ American Culture Association Conference, Chicago IL, 2014.
"Circus or Science?: Eden, Evolution, and Akeley's Influence in Two Early SF Films," Association for the Study of Literature and Environment Conference, Lawrence KS, 2013.
"'Always as a movement forward': Feminist Science in The Green Kingdom (1957)," WisCon, Madison WI, 2013.
"Formaldehyde Fish and Drivable Ducks: SF Form and Environmental Themes in a Global Speculative Fiction Course." Eaton and Science Fiction Research Association Conference, Riverside CA, 2013.
"Disemboweled Suburbs: Teaching Zombie Fiction as Gothic Literature." American Literature Association Annual Conference, San Francisco, 2012.
"'Who is it tends the garden?' Teaching Environmental Ethics with Oryx and Crake and Year of the Flood." The Association for the Study of Literature and the Environment Bi-annual Conference, Bloomington, 2011.
Highlights of Campus Involvement
Promoting Girls in STEM Grant, Workshop Organizer and Presenter Spring 2016
STEM School Humanities and Science Classroom Presenter Fall 2015
Critical Questions in Education Article Reviewer Fall 2015
AAUP Faculty-Student Relations Committee (Chair) Fall 2015-present
General Education Committee Fall 2015-Spring 2017
Co-planner, ENG 3880: Social Work Practices and Gender Studies, Costa Rica Fall 2015
STAR Student Orientation Speaker Summer 2015
Sexual Assault Prevention Taskforce Fall 2014
American Association of University Professors Fall 2014-Present
Science and Society Co-Coordinator Spring 2014-Present
Co-chair, English Department Fall 2013
Academic Standards Committee (Chair, 2014-15) Fall 2013- Summer 2015
Council on Certification of School Professionals Spring 2013-Fall 2014
Co-director of Gender Studies Minor Fall 2012-Present
NOLOS Literary Magazine Faculty Advisor Spring 2012-Spring