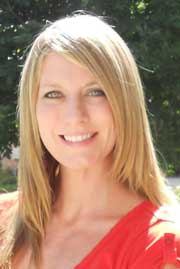 Assistant Professor of Education

Office Location:  Institute for Collaboration, Room 224
Telephone: 630-844-5684
Email Address: jkohnke@aurora.edu

I am so excited to be part of the faculty at Aurora University. It is a great place to interact with both students and faculty. Prior to my experiences in higher education, I was an elementary school teacher. I taught second, third, and fourth grade. I enjoy imparting my love of teaching and learning with my students.  I strive for high energy classrooms with lots of interaction. I especially love the size of Aurora University because it gives faculty the opportunity to really get to know each individual student.  In my courses I like to get students to think critically about issues, and to share their own opinions. In order to do this I feel it is imperative to creative a warm and collaborative environment where we can all learn from each other.

Education
EdD in Educational Leadership and Organizational Change with a concentration in Curriculum and Instruction – Roosevelt University
MA Elementary Education – Roosevelt University
BA Psychology – Roosevelt University
Type 03 Illinois Teacher Certification, Social Science and ESL Endorsement
Type 75 Illinois Administrator Certification

Areas of Specialization
Educational Psychology
K-2 Literacy
Social Studies and Social Justice
English as a Second Language
Digital Storytelling

Courses Taught
Diversity, Democracy and Social Justice
Learning, Theories and Application K-12
Cross-Categorical Special Ed
Reading in Content Area K-12
Reading Methods K-12
Methods and Materials for Teaching ESL
Methods and Materials for Teaching ELLs in Bilingual Programs
Assessment and Approaches to Elementary Education
Content Area Reading with a Focus on Social Studies
Educational Research and Social Studies
Methods of Reading and Language Arts for the Primary Grades K-2
Effective Comprehension Instruction
Cross-Cultural Education for English Language Learners
Foundations of Bilingual Education
Adolescent Development and Learning
Assessment of Bilingual Students
Teaching Reading to Diverse Populations

Highlights of Presentations, Publications, and Professional Contributions
Digital Storytelling as Inquiry; A Pedagogical Approach for the 21st Century. International Society for the Social Studies Annual Conference, Orlando, FL, March 1st, 2012.

From Nazi Youth to Child Soldiers of Today: How and Why Do Children Get Involved in War? Florida Conference of Historians, Fort Lauderdale, FL, April 15th, 2011.

Using Literature Discussions to Look at Curriculum through a Social Justice Lens. Illinois Council for the Social Studies Fall Conference, Lisle, IL, October 15th, 2010.

Approaches to Teaching Graduate Students. Adjunct/Pro Rata Faculty Orientation, Aurora, IL, August 9th, 2010.

Social Justice in the Undergraduate Elementary Education Curriculum. International Society for the Social Studies Annual Conference, Orlando, FL, February 25th, 2010.

Kohnke, J. (2010). Social Justice in the Undergraduate Elementary Education Curriculum. In William Benedict Russell III (Ed.), ISSS Proceedings: Volume 2010, Issue 1 (p. 85-88). Orlando: FL.

Highlights of Campus Involvement
University Committee Work
Organized and held a Critical Issues in School and Society Conference at Aurora University 2011
Organized and held five Teach for Social Justice Fairs at Aurora University from 2009-2011

Professional Organizations
ISSS (International Society for the Social Studies)
ICSS (Illinois Council for the Social Studies)
IRC (Illinois Reading Council)
IRA (International Reading Association)

Other Interests
Painting, cooking, working-out, traveling, watching baseball and football, and spending time with my cat