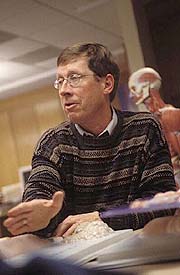 Associate Professor of Biology
Natural Sciences and Mathematics

Office Location: Stephens Hall, Room 102
Telephone: 630-844-5620
Fax: 630-844-3852
Email Address: jlloyd@aurora.edu
Reared on a dairy farm in Kentucky and the first in my family to attend college, I have always wanted to teach and be involved with young people as a mentor and advisor. Before entering academia in 1992, I was very much involved in the healthcare field. I worked in pathology departments in hospitals conducting diagnostic electron microscopy and was a senior research associate for Baxter Healthcare International Corporation. In graduate school, my thesis and dissertation topic involved the ultrastructure of articular cartilage located in synovial joints. I have been teaching anatomy and physiology and advising pre-health professional students for the past 17 years.
Education
B.S., Kentucky State University
M.S., Wright State University
Ph.D., Northern Illinois University

Areas of Specialization
Physiology
Anatomy (Histology and Ultra-Structure)
Biogerontology
Health Professions

Courses Taught
First Year Seminar: It's About Time
Human Biology
Anatomy & Physiology I
Anatomy & Physiology II
Health Professions Seminar
Pathophysiology
Nutrition & Health Promotion
Biogerontology

Highlights of Publications, Honors and Professional Contributions
Publications
Lloyd, Johnny K., "An Anatomical Study of the Effects of Moderate Exercise on Aging Rodent Knee Joints." "Journal of Aging and Physical Activity." 2004; 12(3) 268.

Lloyd, Johnny K., "Alternative, Engaging, Economical, and Low-Tech Evaluation Tools for A/P." HAPS. Educator. Spring 2004; 14-15.

Presentations:
Presenter at the 21st Annual National Human Anatomy & Physiology Society Conference, San Diego, CA, in May, 2007.  "The Integration of CD-ROM technology in the Anatomy & Physiology Laboratory."

Honors:  
Advisor of the Year, Aurora University, 2005

Nominated and included in the 8th and 9th edition of Who's Who Among America's Teachers, 2004, 2005.  An organization honoring our nation's most respected teachers.

Highlights of Campus Involvement
Science Club Advisor
Member of the AU Athletic Committee
Faculty Senate
Pre-Health Professions Advisor and Counselor

Other Interests
Biking
Hiking
Running
Cross Country Skiing
Soccer Referee