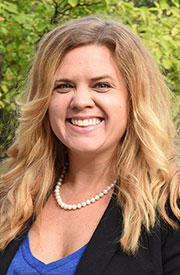 Assistant Professor of Athletic Training, Clinical Education Coordinator - ATP
Office Location: Alumni Hall 133
Phone Number:
630-844-5474
Email Address:
amharris@aurora.edu
Teaching Philosophy

I subscribe to the idea of learner-centered educational practices. We as educators are trusted with fostering the intellectual growth of the future generation of practitioners. Every student comes to us with a different set of experiences, biases, and intellectual frameworks. It is the job of an educator to get the students to "buy in" to the educational experience. My goal is to produce clinically capable practitioners, therefore critical thinking and practical skills transfer should be a primary focus. A student's ability to think critically is a much better indicator of comprehension than regurgitation of book information.


Education

PhD, Human Performance, Oklahoma State University 
MEd, Health Education, Boston University
BS, Athletic Training, University of Wisconsin - La Crosse


Areas of Specialization

Clinical Education
Clinical Evaluation and Diagnoses
Emergency Management


Courses Taught

Therapeutic Modalities
Examination of the Lower Extremity and Viscera
Responding to Emergencies
Practicum I - VII


Highlights of Publications, Honors and Professional Contributions

Nine invited oral and poster presentations on various research subjects since 2013. These include 4 national, 3 district, and 2 institutional appearances. Current manuscripts under review are in the areas of peer-assisted learning, cultural competence in athletic training education, defining immersion in health care education, and sexual prejudice toward LGBT patients.