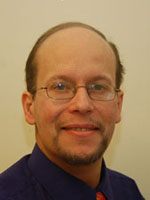 Associate Professor, Chair of Art and Theatre Department, Theatre Technical Director and Manager

Office Location:  Stephens 201B
Telephone: 630-844-3850
Fax:  630-844-7830
Email Address: jcurran@aurora.edu
I have a passion for academic theatre. Although I have had many wonderful professional experiences over the years, I cannot escape the draw of student productions. This is the place where we have the most freedom to experiment and find deeper connections to the art. It is also where we make the best use of all of the components of theatre: history, acting, directing, designing, writing, etc. Before coming to Aurora in 2006, I taught theatre at William Rainey Harper College, Indiana University Northwest and North Central College. Professionally, I have been involved in over 150 productions throughout the country.
Education
MFA Theatre Design and Technology, Ohio University
BA Interdisciplinary Studies (Speech, Art and Music), Glenville State College

Areas of Specialization
Technical Theatre, Theatre Design, 3D Design, Sculpture

Courses Taught
Introduction to Theatre
Stagecraft 1
Stagecraft 2
Design for the Stage
3D Design
Sculpture (all levels)

Highlights of Publications, Honors and Professional Contributions
As a professional designer, technical director, and craftsperson, my work has been seen in theatres all over the country including: The Kennedy Center, Minnesota Opera, Candlelight Dinner Theatre, Chicago Shakespeare Theatre, Goodman Theatre, Arena Stage, and Santa Fe Opera. My current focus is on international and multi-cultural theatre.

Award of Meritorious Achievement (Scenic Design) from the Kennedy Center American College Theatre Festival for "Medea" at Indiana University Northwest and "The Clean House" at Aurora University.

Highlights of Campus Involvement
I have the privilege of being the Scenic and Lighting Designer for many of the theatre productions at Aurora University and Music By the Lake at GWC.