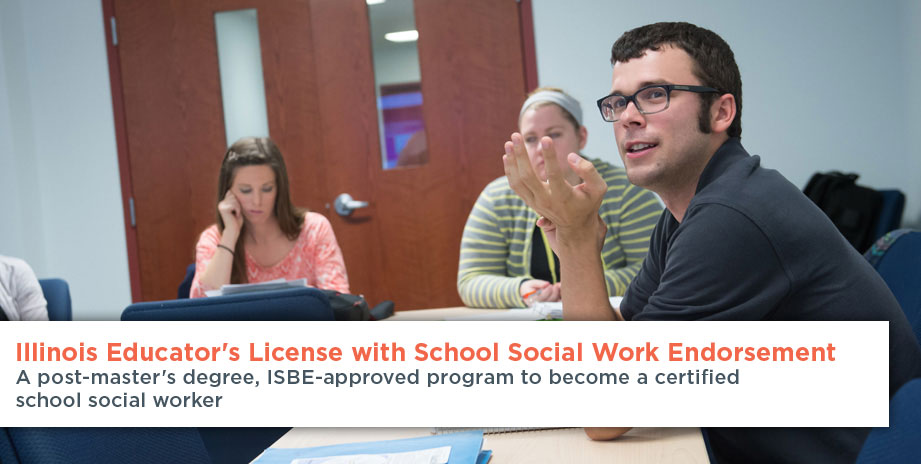 Aurora University offers a curriculum designed to meet Illinois State Board of Education (ISBE) requirements to become endorsed as school social workers in Illinois. The program is available as a specialization for students currently enrolled in the Master of Social Work degree, or as an endorsement-only program for students who have already completed an MSW degree and wish to add the endorsement.
Through rigorous coursework, we will guide you through the ISBE certification process and help you prepare for the Illinois Basic Skills and Illinois School Social Work tests. Most students complete the certification requirements in one year.
Admission Process
A completed Graduate Application for Admission
Transcripts (official, sealed in envelope) from all prior undergraduate and graduate colleges and/or universities. Aurora University accepts official electronic transcripts at AU-ETranscripts@aurora.edu
Master of Social Work degree from a CSWE-approved program with an average GPA of 3.0 on a 4.0 scale. Students with a GPA of less than 3.0 will be considered on a case-by-case basis.
Two letters of recommendation from individuals familiar with your professional or academic abilities
Test of Academic Proficiency (400); passing score required
*Students may opt to take the ACT Plus writing subtest and earn a 22 composite score on the exam to qualify for a waiver of the TAP.
Field Instruction
We believe that the student should play a vital role in determining his/her field placement. We will help you select an internship site and maintain contact information with partner schools. If you have experience in relevant areas, our social work coordinator will meet with you to determine if the experience is applicable. Placements should be arranged before you register for SWK6430; Most students make internship arrangements in January.
Gainful Employment Disclosure
This graduate certificate program is approved as a Gainful Employment Program through the US Department of Education and is, therefore, eligible for Federal Student Aid. Disclosure Statements about occupations, on-time graduation rate, tuition and fees, and median loan debt for this program can be found here.