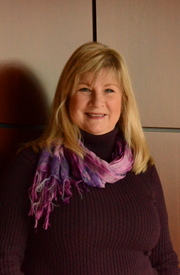 Program Chair and Visiting Assistant Professor for Master of Arts in Reading Instruction, and Master of Arts in Curriculum and Instruction
Office Location: Institute for Collaboration 226D
Phone Number: 630-844-5656
Email Address:
pkeefer@aurora.edu
Teaching Philosophy
My teaching philosophy centers on the basic tenet that all students can learn. Whether or not students reach their full learning potential rests in the hands of their teachers. In order to ensure student success, as a teacher I must design instruction that addresses multiple learning modalities and continuously engages the learner. My goal as a teacher is to find the optimal way to guide each student to success: "If students are apparently unable to learn, we should assume that we have not as yet found the right way to teach them." ~Marie Clay
Education
EdD - Loyola University, Chicago
MA - Northeastern Illinois University
BA - Northeastern Illinois University
Areas of Specialization
Literacy Instruction for Emergent Learners
Professional Learning Communities
Response to Intervention
Parent Involvement for Literacy Success
Educational Program Evaluation
Curriculum Design
Courses Taught
Literacy in the Content Areas
Assessment of Literacy Learning
Supervision and Administration in Literacy I
Supervision and Administration in Literacy II
Professional Research in Literacy Learning I
Professional Research in Literacy Learning II
Practicum in Reading
The Leader's Role in Supervision, Assessment, and Evaluation in Literacy Learning
Curriculum Construction
Contemporary Issues in Curriculum and Practice
Highlights of Publications, Honors and Professional Contributions
Kaufmann, Peggy. (2000). Effects of a sequenced and individualized home reading program with parent involvement, on the reading performance and attitudes of primary students. (Doctoral dissertation).  
Unpublished Action Research:Effects of Maternal Literacy on Early Childhood Cognitive Development, Malcolm X College, Chicago 1987.  
Comparison of Student Achievement on ISAT for ELL Students in Dual Language Classrooms and ELL Students in Non-Dual Bilingual Programs, School District 54, Schaumburg, IL.  
Comparison of the Effects of Reading Recovery on ELL Students and Native English Speaking Students, School District 54, Schaumburg, IL.  
Presentations
Professional Learning Community Leadership Conference – May 2006.
Illinois PTA Annual Conference – April 2006.
Illinois Reading Council Conference – March 2000.
Illinois Reading Recovery Conference – February 2000.
Concordia University Annual Reading Conference – February 2000
Highlights of Campus Involvement
Council on Licensure of School Professionals
Faculty Senate Member