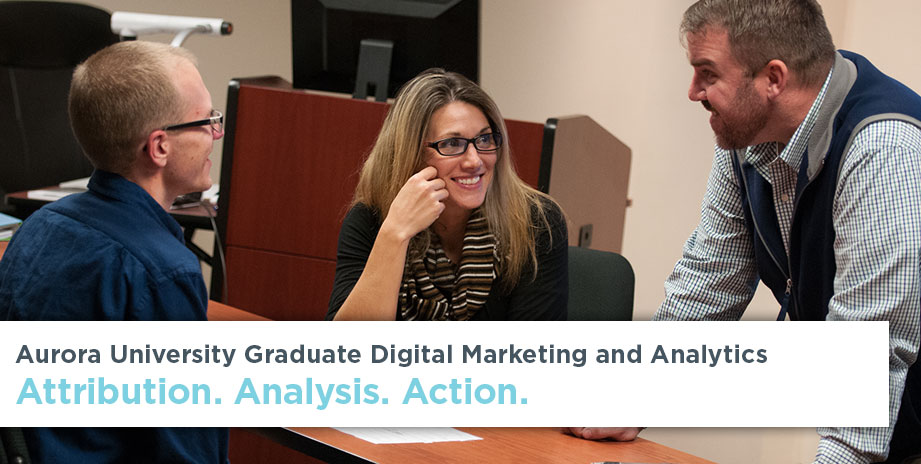 We are not currently accepting new applications for this program. Please contact the Center for Adult and Graduate Studies at 630-947-8955 for additional information.
Understand the context behind all of your big data. Develop true customer loyalty. Build your life with a cutting edge digital marketing and analytics program. Students dive into research design, database management and lifecycle analysis which surround today's digital landscape. Consider the following research conducted on the need for more sophisticated analytical skills in the workplace:
By 2018, the US could face a shortage of 140,000 to 190,000 people with deep analytical skills as well as 1.5 million managers and analysts with the know-how to use the analysis of big data to make effective decisions.

Gartner, an information technology research company, expects business-intelligence software to increase by $17.1 billion by 2016.
The Digital Marketing and Analytics program at Aurora University prepares graduates to master analytical skills to make themselves marketable and competitive in both the B2B and B2C environments. Award-winning faculty collaborate with students to provide the expertise needed to stay up to date with current trends in marketing.
| | | |
| --- | --- | --- |
| Attribution | Analysis | Action |
| Learn how to identify and target key stakeholders | Align objectives with metrics | Create models to influence consumer purchases |
| Investigate data mining techniques | Become proficient in data visualization and modeling | Make data driven decisions |
| Explore brand awareness through email, social media and search marketing | Turn big data into smart data through SPSS, Cognos and IBM Digital Analytics | Use Consumer insight to employ change management |
| Research relevant theories, case studies and surveys | Analyze qualitative and quantitative data | Leverage knowledge to plan and implement marketing strategies and campaigns |