Exercise Science Plus One Program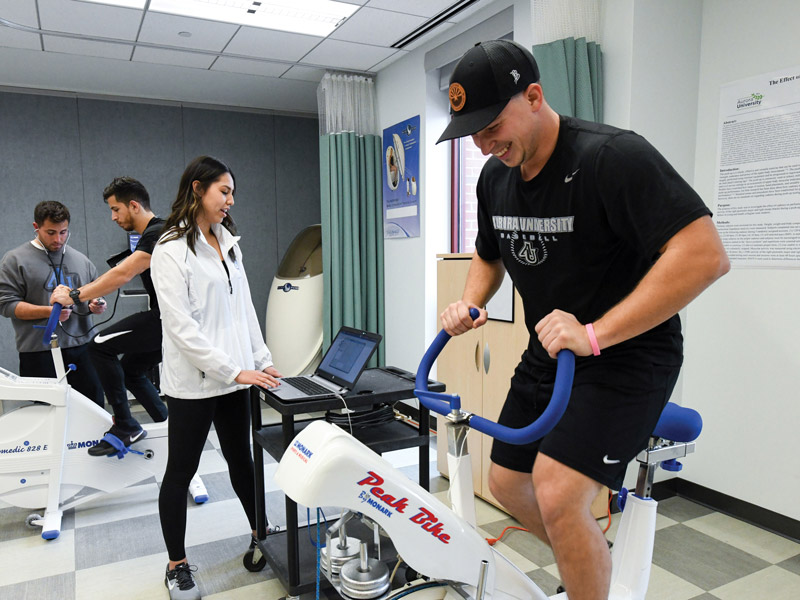 The Master of Science in Exercise Science program will prepare you for a career in fitness and conditioning. Through full-time studies in AU's daytime program, you can complete your master's degree in one year. The program begins in June and finishes the following May.
In this immersive program, you will gain experience to pursue positions in fitness and strength and conditioning facilities in schools and professional settings. The curriculum will prepare you to take exams for certifications offered by the National Strength and Conditioning Association (NSCA), including the Certified Strength and Conditioning Specialist (CSCS) and Tactical Strength and Conditioning Facilitator (TSAC-F). The curriculum also includes the USA Weightlifting (USAW) Level I certification.
Why the Exercise Science Plus One Program?
It will increase your earning potential. U.S. workers holding a master's degree earn 20 percent more in average annual salary than those with a bachelor's degree.*
It's a great value. AU graduate programs are affordable and have impressive student outcomes.
Athletes can stay on the team. It's a great option for student athletes with a remaining year of athletic eligibility.
It offers a streamlined application process. There is no application fee and no GMAT/GRE required for application to the program.
An iPad is included and there are no textbook costs. The iPad will be equipped with the strength and conditioning apps you need for the program.
Admission requirements are simple. All that's required is:

A completed graduate application for admission
A cumulative undergraduate GPA of 3.0 or higher
*Bureau of Labor Statistics
Students will transform to professionals in this accelerated program that combines an excellent curriculum with exposure to the industry's leading technology and exercise science equipment. Chad Trudo, Director of Strength and Conditioning
Experiential learning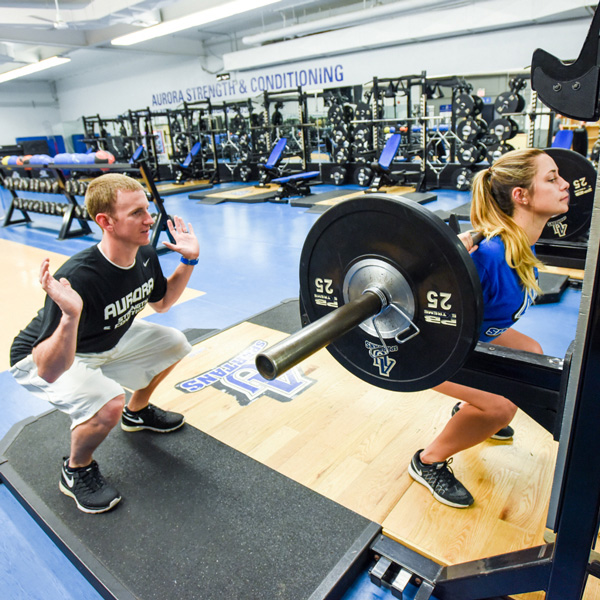 Community partnerships are at the heart of the Exercise Science Plus One program. AU offers students two graduate assistantship opportunities in athletic training and strength and conditioning. Students work directly with patients and clients in health care settings and athletic facilities, where they also have the opportunity to conduct research in exercise testing and prescription, injury prevention, and sports nutrition.
Career possibilities
Cardiac rehabilitation specialist
Certified strength and condition specialist
Exercise physiologist
Fitness trainer
Gym manager
Kinesiotherapist
Personal trainer
Recreation and sports director
Sports coach
Where our students intern and graduates work
Acceleration Sports Performance
Arizona State University
Athletico
ATI Physical Therapy
Elite Sports Performance
Good Samaritan Hospital
IMG Academy
Loyola University Chicago
Michigan State University
North Carolina State University
Northwestern Medicine
San Francisco Giants
Texas A&M University
University of California, Los Angeles
University of Iowa
University of Nevada, Las Vegas
YMCA
Admission Requirements
A completed graduate school application.
Official transcripts for all prior college and/or university credit.
Baccalaureate degree from a regionally accredited institution of higher learning with a major in exercise science, kinesiology, or related area with a 3.0/4.0 GPA.
Prerequisite required courses: Anatomy and Physiology, and Exercise Physiology.
Sample Schedule
Plus One students meet as a cohort during summer, fall, and spring semesters.
Term
Classes
Summer
June–August
10-week day courses


Advanced Exercise Physiology (3)
Advanced Exercise Physiology Lab (3)
Applied Biomechanical Principles (3)

Fall
August–December
Session 1; 8-week day courses


Advanced Methods of Strength and Conditioning (3)
Research Methods in Exercise and Sport (3)

Session 2; 8-week day courses


Applied Sports and Exercise Psychology (3)
Nutrition for Sports Performance (3)

Spring
January–May
Session 1; 8-week day courses


Management in Exercise and Sport (3)
Program Evaluation and Analysis (3)

Session 2; 8-week day courses


Exercise Physiology Graduate Internship (3)