Exercise Science Plus One Program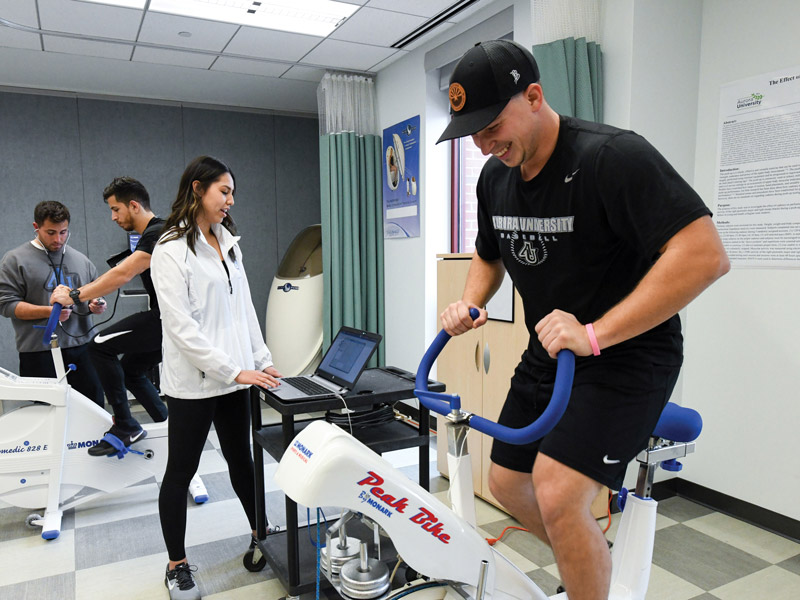 These requirements will apply to students enrolling at AU in the 2019-2020 academic year. Current students can find the requirements that apply to them by consulting the relevant academic catalog.
AU offers a streamlined path to your MS in Exercise Science through day classes held on the main campus and at AU Orchard Center. Through full-time studies, the program can be completed in one year.
INCREASE YOUR EARNING POTENTIAL: U.S. workers holding a master's degree earn 20 percent more in average annual salary than those with a bachelor's degree.*
GAIN THE SKILLS: Acquire strength training and conditioning certifications while gaining advanced knowledge and skills to become a professional strength coach.
STAY ON THE TEAM: Use another year of athletic eligibility.
APPLY YOUR KNOWLEDGE: Engage in practical, hands-on experiences in a state-of-the-art exercise science lab. Your coursework will include research and strength and conditioning training with athletes alongside members of the AU staff.
A BEST VALUE: Affordability and impressive outcomes define the AU graduate programs.**
STREAMLINED APPLICATION PROCESS: No application fee and no GMAT/GRE required.
PROFESSIONAL GROWTH OPPORTUNITIES: Develop your professional network and participate in activities that expose you to various sports teams while assisting with their strength training and conditioning.

TABLET AND TEXTBOOKS INCLUDED: Each student receives a tablet equipped with industry-standard software and textbooks.
Admission Requirements
A completed graduate application for admission.
A cumulative undergraduate GPA of 3.0 or higher.
MS in Exercise Science Course Prerequisites:
College Algebra
Essentials of Anatomy and Physiology
Physiology of Exercise
The following items are needed before the start of class:
Current TB screen/test (within past 12 months).
Criminal background check through the university.
Current AU undergraduate students interested in the Plus One program can apply here:
If you have completed or are working on your undergraduate degree at another institution, apply here:
Sample Schedule
Summer: 9 semester hours
10-week day courses
Advanced Exercise Physiology (3)
Advanced Exercise Physiology Lab (3)
Applied Biomechanical Principles (3) 
Fall: 12 semester hours
Session 1; 8-week day courses
Advanced Methods of Strength and Conditioning (3)
Research Methods in Exercise and Sport (3)
Session 2; 8-week day courses
Nutrition for Sports Performance (3)
Applied Sports and Exercise Psychology (3)
Spring: 9 semester hours
Session 1; 8-week day courses
Management in Exercise and Sport (3)
Program Evaluation and Analysis (3)
Session 2; 8-week day courses
Exercise Physiology Graduate Internship (3)
*U.S. Bureau of Labor Statistics, 2016
**Crain's Chicago Business, 2017