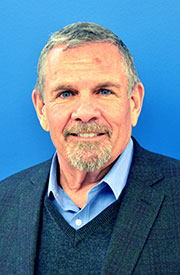 University Professor of Educational Leadership

Office Location: Institute for Collaboration 218
Phone Number: 630-844-7596
Email Address: jbarshin@aurora.edu
Teaching Philosophy
As a leader in K-12 education, I believe that the most important resources in our schools are the people that choose to serve in the growth and development of children. Strong collaboration is the foundation for educational leaders to learn and grow. As coach, mentor, teacher, and advisor to Aurora University doctoral students, I challenge our students to develop solutions to the educational issues in school district by building strong research knowledge and implementing strategic processes that tap the potential for continuous improvement in all schools.
Education
EdD, Curriculum and Instruction - Northern Illinois University
MS, Education - Northern Illinois University
BS, Elementary Education - Northern Illinois University

Areas of Specialization
Educational Leadership
Continuous Improvement
Adult Learning
Leadership Development
Coaching
Curriculum
Succession Planning
Baldrige
Organizational Theory
Change
Instructional Technology
Education Reform
Policy Analysis

Courses Taught
EDU7225 Curriculum for Administration
EDU7110 School Reform/School Renewal
EDU7135 Dynamics of Organizational Theory and Change
EDU7150 Advanced Human Resources Administration
EDU7750 Educational Leadership Internship

Highlights of Publications, Honors and Professional Contributions
A National Delphi Study of Desired Factors for Whole-Language Classroom Environments, Doctoral Dissertation, NIU 1995
Leadership in Schools: Tips for Educators in High Stakes Age, Author House 2005

Highlights of Campus Involvement
Leadership in Education NCATE Response Team
Advisor Peoria Doctoral Cohort
Advisor to Woodstock Center Doctoral Cohort