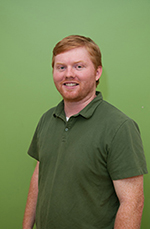 Assistant Professor of Education
Office Location: Institute for Collaboration 218
Phone Number: 630-844-7597
Email Address: apickup@aurora.edu
Teaching Philosophy
My teaching philosophy emphasizes the concept of the "scholar-practitioner" that is a central feature of the Aurora University EdD program. My belief is that the discipline and profession of education has suffered from an unfortunate distance between theory and practice and that these should be used together as part of an overall process of inquiry. By connecting theory and practice, through bringing educational scholarship in conversation with current practices in K-12 and higher education, I believe the inquiry that is developed creates potential for students to be transformative in their careers in education. My hope is that students in my courses and the program overall do not simply come out with mere tools to perform their job in education the same way. I hope, rather, that students leave with insights that allow students to understand and think education differently than how they did before. This requires both theoretical knowledge that informs current practices, but also a critical assessment of current educational practices to understand the sometimes unrecognized theory within them. I attempt to abide by this philosophy in my courses by guiding students through important readings of educational theory/research, facilitating conversations regarding how this theory/scholarship applies to current educational practices, and assigning work that asks students to put theory and practice together in view of their professional life in schools.
Education
PhD, Educational Research, The University of Alabama
MA, Secondary Education, The University of Alabama
BA, History, Western Kentucky University 
Areas of Specialization
Qualitative Research
Mixed Methods Research
Social/Historical/Philosophical Foundations of Education
Philosophy of Social Science
Courses Taught
EDU 7010/8010: Intro to Educational Research
EDU 7190/8190: Qualitative Research
EDU 7210/8210: Advanced Qualitative Research
EDU 7110/8110: School Reform & Renewal
EDU 8510: Foundations of Adult Learning & Education
NSM 6100: Educational Research in Math/Science I
NSM 6200: Educational Research in Math/Science II
Highlights of Recent Publications, Honors, Professional Contributions
Pickup, A. (2016). Critical inquiry as virtuous truth-telling: Implications of phronesis and parrhesia. Critical Questions in Education, 7(3), 178-196.
Kuntz, A., & Pickup, A. (2016). Critical inquiry for the social good: Methodological work as a means for truth-telling in education. Critical Questions in Education, 7(3), 171-177.
Pickup, A. "Problematization as activism: Disrupting the neoliberal education project through the 'work of thought'". Presented at the 2016 Ohio Valley Philosophy of Education Society Annual Meeting.
Pickup, A. "On materiality, abstraction, onto-epistemologies, and playing golf: Points of (dis)connection between Deweyan and Deleuzian perspectives". Presented at 12th International Congress for Qualitative Inquiry.
Pickup, A. "Against method: Resisting traditional methodologies of research in practitioner-based academic programs". Presented at 11th International Congress for Qualitative Inquiry.
Professional Organizations
American Educational Research Association
Southeast Philosophy of Education Society
Ohio Valley Philosophy of Education Society
International Congress for Qualitative Inquiry
Campus Involvement
Academic Standards Committee