MBA Plus One Program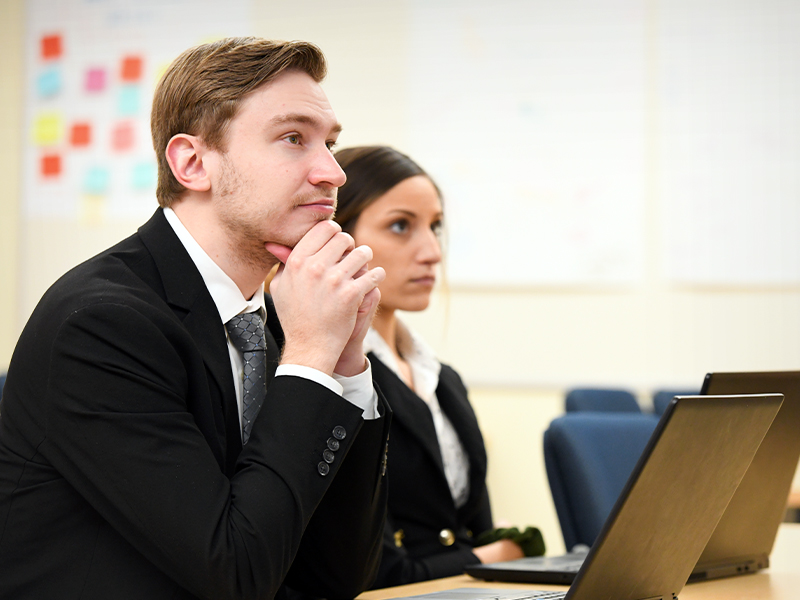 The Master of Business Administration (MBA) Plus One program offers a streamlined path to your master's degree through day classes held on the main campus and at AU Orchard Center.  This immersive program is open to students with undergraduate degrees in business administration as well as degrees in other fields. Through full-time studies in AU's daytime program, you can complete your master's degree in one year. The program begins in June and finishes the following May.
The MBA Plus One program offers a comprehensive curriculum designed to give you a broad understanding of business operations and hone your problem-solving and team-building skills. You'll apply business theory and research to current business trends and real-world case studies, and you'll learn from professors who are established experts in their industries.
You will choose one of four tracks:
Business Management: Designed for the classic MBA experience. Students will become proficient in all areas of business, including finance, management, marketing, and operations.
Digital Marketing: Designed for students who seek to master communication in a digital world. Students will explore consumer insight, marketing analytics, and digital marketing strategies in this MBA experience.
Healthcare: Designed for students who seek leadership opportunities at the intersection of business and healthcare. Students will learn cultural competence and professional effectiveness, comprehensive healthcare management, healthcare financing, and healthcare information management as part of a suite of MBA courses.
Sport Management: Designed for students who aspire to work in the amateur, collegiate, or professional sport industry. Students begin preparing for their career early in the program by gaining access to professionals in the field through networking and career exploration opportunities, and quickly develop skills in sales, marketing, and administration.
Why the MBA Plus One Program?
It will increase your earning potential. U.S. workers holding a master's degree earn 20 percent more in average annual salary than those with a bachelor's degree.*
You will gain the skills you need to succeed. You'll learn to effectively analyze business data to make key management decisions.
It's a great value. AU graduate programs are affordable and have impressive student outcomes.
It will give you professional growth opportunities. You'll participate in a premier internship, portfolio project, or high-impact learning experience, along with networking opportunities with area businesses and organizations.
Athletes can stay on the team. It's a great option for student-athletes with a remaining year of athletic eligibility.
It offers a streamlined application process. There is no application fee and no GMAT/GRE required for application to the program.
A laptop is included and there are no textbook costs. The computer will be equipped with all the software you need for the program.
Admission requirements are simple. All that's required is:

A completed graduate application for admission.
A cumulative undergraduate GPA of 3.0 or higher.
*Bureau of Labor Statistics
The MBA Plus One program helped me become better prepared for my future and opened up my world to new experiences. Mitchell Lave, MBA Plus One '20


In Our Own Words: Dunham School of Business and Public Policy Dean Toby Arquette on the difference one year makes
The Plus One Program prepares students to be more competitive in the job market. In just one year, students quickly become adept at leading a team, communicating professionally, and networking, while also participating in an internship that opens up new career possibilities.
The program matched me with an internship I was passionate about. I got the opportunity to intern for a global live-event company, and I was able to direct my class knowledge to my projects. Jamie Lopez, MBA Plus One '20
Career possibilities
Accounting
Finance

General management

Human resources

IT/MIS

Logistics
Marketing
Sales operations
Where our graduates work
2112
American Academy of Orthopedic Surgeons
Chicago Steel
Cray Kaiser Ltd.
Feld Entertainment
FHP O-Cedar
FONA International
Forecast5 Analytics
Illinois Tollway Authority
John B. Sanfilippo & Son
LaSalle Network
Oberweis Dairy
Sodexo
Sample Schedule
Plus One students meet as a cohort during summer, fall, and spring semesters.
Term
Classes
Summer
June–August
10-week day courses

Communication Management (3)
Leadership and Organizational Behavior (3)
Managerial Accounting (3)
Marketing Management (3)

Fall
August–December
16-week day courses

Applied Research, Insights, and Evaluation (3)
Corporate Finance (3)
Data Analytics (3)
Operations Management (3)

Spring
January–May
16-week day courses

High-Impact Professional Experience (6)
Design Thinking (3)
Strategic Management (3)