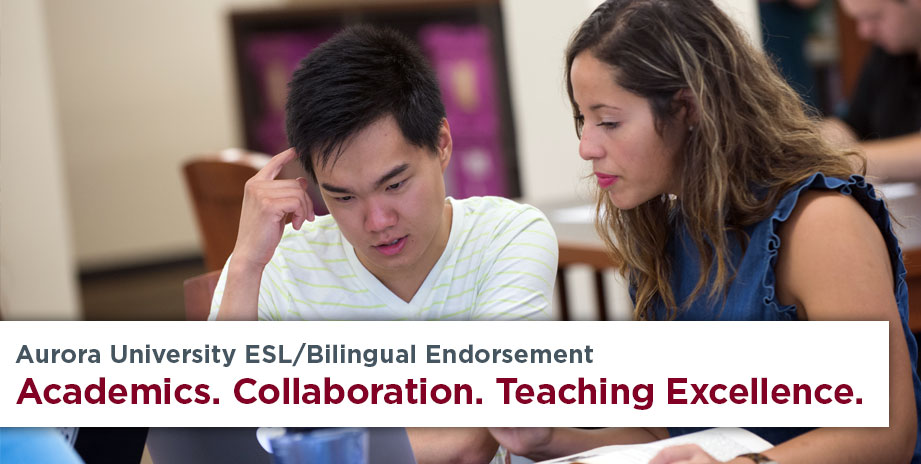 We are not currently accepting new applications for this program on-ground. However, the program is offered through AU Online. Please visit online.aurora.edu or contact the Center for Graduate Studies at 630-947-8955 for additional information.
Academics
The Aurora University School of Education is dedicated to responding to the changing trends and needs of the communities it serves. The number of children from non-English language backgrounds is increasing every year, and to meet the needs of the classroom teacher, AU offers ESL and Bilingual endorsements. The Bilingual/ESL endorsement provides the knowledge and skills necessary to effectively instruct English Language Learners, while also meeting state requirements in the field of Bilingual/ESL education. The university also offers a full Master of Arts in Curriculum and Instruction with Bilingual/ESL Education.
Collaboration
The endorsement program is offered in a cohort format on the Aurora campus and through district and regional office of education partners throughout Illinois. Working with peers in your cohort, you will apply theory to practice as you learn to meet the linguistic and academic needs of today's diverse student population.
Teaching Excellence
All courses within program are delivered by credentialed faculty with extensive experience in leading and teaching Bilingual/ESL programs. You will gain knowledge in instruction and assessment from highly qualified practitioners, principals and directors of Bilingual/ESL programs.
Find a Cohort Near You
To learn more information about cohorts forming in your area, complete the form below.
Loading...