These requirements will apply to students enrolling at AU in the 2017-2018 academic year. Current students can find the requirements that apply to them by consulting the relevant academic catalog.
The Master of Science in Applied Behavior Analysis requires a minimum of 39 semester hours, including 18 hours of required coursework designed to meet BACB requirements, a nine-semester-hour practicum and 12 additional semester hours of required courses. The degree is designed to be completed in two years with a course load of two classes and practicum experience each semester; however, the degree can be completed over a longer period of time if needed.
Required Courses
Designed to meet BACB requirements
ABA5200 Introduction to Applied Behavior Analysis (3)
ABA5300 Clinical and Research Methods in Applied Behavior Analysis (3)
ABA5400 Behavioral Assessment (3)
ABA6200 Behavioral Interventions (3)
ABA6400 Professional and Ethical Issues (3)
Practicum Courses
ABA6900 Intensive Practicum (9)
Additional Required Courses
ABA6100 Theory and Philosophy (3)
ABA6300 Advanced Applied Behavior Analysis (3)
ABA6500 Capstone Course (3)
ABA6810 Special Topics in Applied Behavior Analysis (3)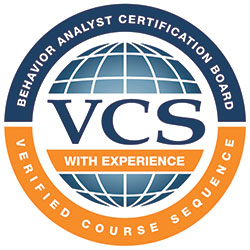 The Behavior Analyst Certification Board® has verified Aurora University's course sequence as meeting the coursework requirements for the 4th Edition Task List.
For more information, visit the BACB website at bacb.com or contact the Center for Graduate Studies.