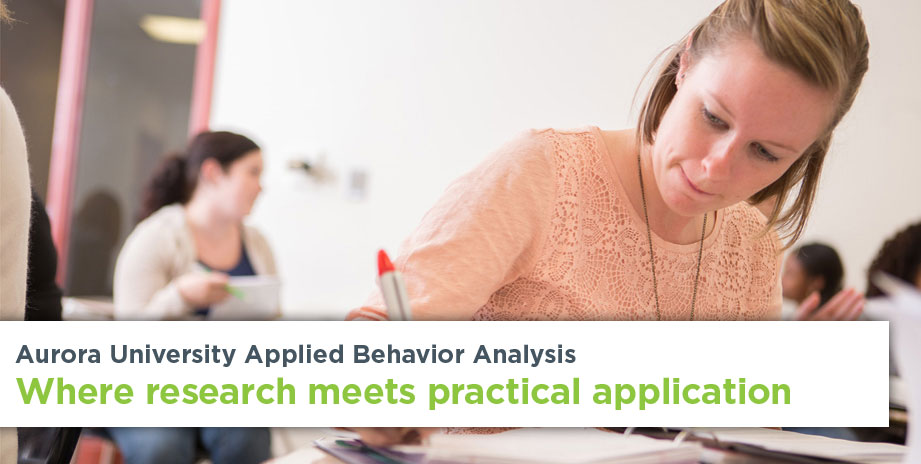 The Master of Science in Applied Behavior Analysis will prepare you to address significant challenges in today's society. Combining coursework and intensive practicum, this 39-semester-hour program will help you gain the knowledge, skills and experience necessary to become an effective applied behavior analyst.
What is Applied Behavior Analysis?
Applied Behavior Analysis (ABA) is a field that utilizes basic behavioral principles to address behavior challenges of social significance. An applied behavior analyst uses methods of direct observation to gather information about how different environmental events influence behaviors of interest, and then systematically evaluates if/how modifications to these environmental events produce socially significant changes. As a graduate of the program, you will be on the leading edge of a growing field and be equipped with the knowledge and skills to make a difference in the lives of others. 
What could I do as an Applied Behavior Analyst?
Applied behavior analysts work in any setting in which they can address problematic behaviors that are of social concern. Applied behavior analysts have been particularly effective serving individuals on the autism spectrum and individuals diagnosed with intellectual and developmental disabilities. In addition, applied behavior analysts also find meaningful roles in the areas of education, business and industry, treatment of substance abuse, sports and athletic performance, and animal training (just to name a few).
Where research meets practical application.
The ABA program emphasizes a natural science approach to the study of human behavior. The program will introduce students to ways of viewing everyday behavior that differs from the way behavior is typically talked about in everyday speak. You will be introduced to the basic research that serves as the foundation for applied behavior analysis, and how basic research has given rise to effective behavioral treatments addressing behavioral challenges. Then, you will have the opportunity to exercise skills learned in the classroom at practicum sites that have been selected because of the high quality services and the range of experiences the sites provide.
Careers in ABA
Upon completion of the ABA program, you will be prepared to work in:
Hospitals and medical facilities
Mental health centers
Educational settings
Forensic settings
Research facilities
Center- and home-based programs for individuals with autism and developmental disabilities