Mission and History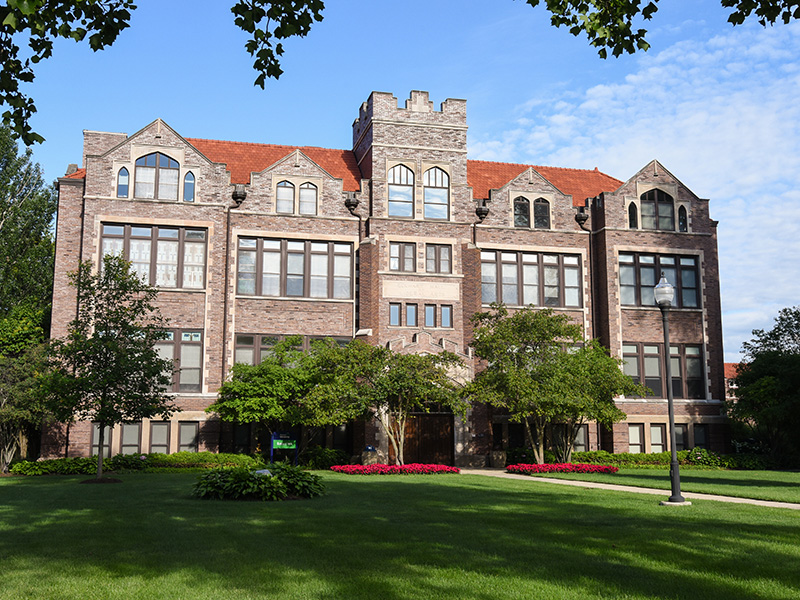 Our mission
Aurora University is an inclusive community dedicated to the transformative power of learning. As a teaching-centered institution, we encourage undergraduate and graduate students to discover what it takes to build meaningful and examined lives. Our singular goal is to empower our students to achieve lasting personal and professional success.
Core values
Aurora University draws upon the rich legacies of Aurora College and George Williams College to welcome learners to our campuses in Illinois and Wisconsin. Here all become members of an inclusive educational community dedicated to the development of mind, body, and spirit. Today, as in the past, we prize the twin virtues of character and scholarship and affirm our commitment to the values of integrity, citizenship, continuous learning, and excellence.
Integrity: Aurora University adheres to the highest standards of integrity in every aspect of institutional practice and operation. Through this proven dedication to honesty, fairness, and ethical conduct, we lead by example and inspire our students to do the same.
Citizenship: Aurora University exercises the rights and responsibilities of citizenship in an inclusive educational community, founded upon the principles of mutual respect and open discourse. We live within our means and manage our resources wisely and responsibly, while sustaining an environment that fosters teamwork and promotes services to others. We serve the needs of the Fox River Valley, McHenry County (Illinois), Walworth County (Wisconsin), and online learners by offering myriad educational and cultural opportunities to our students and the community-at-large.
Continuous Learning: Aurora University works and lives as a nonprofit organization dedicated to continuous learning. We help students achieve their full potential.
Excellence: Aurora University pursues excellence by embracing quality as a way of community life.
Vision statement
Aurora University will be known and experienced as an exemplary institution of higher learning. We will draw upon the values of integrity, citizenship, continuous learning, and excellence to provide our students with life-changing educational experiences. As an inclusive and vibrant community, inspired by the traditions of the past, we will create a promising future for our university and our students.
Toward fulfillment of this vision, we will engage gifted faculty, staff, and trustees in the work of the university and will recruit and graduate talented and dedicated students. Together, we will strengthen our educational programs and will improve the learning, living, and working environments on our campuses. We will serve the needs of our students through strategic partnerships and will enhance the well-being of the communities around us. We will manage our resources effectively and will deepen the financial foundation upon which our aspirations rest.
Through these initiatives, we will invest in our university and will endow a new generation of Aurora University graduates with the knowledge, skills, and values to transform themselves and their world.
Our history
Aurora University traces its origins to the 1893 founding of Mendota College in Illinois and the Western Secretarial Institute in Wisconsin, the two organizations that matured into Aurora College and George Williams College, respectively.
Mendota College was established initially as a seminary to prepare graduates for ministry, but it soon adopted a broader mission, moving in 1912 to a new campus in the nearby community of Aurora. With this change came a different name, Aurora College, and a growing enrollment. When World War II ended, the campus population swelled again as veterans enrolled in the college's innovative evening degree program. The 1970s and 1980s saw an expansion of curricular offerings in a number of professional fields and the awarding of advanced degrees in selected disciplines. These changes culminated in the 1985 decision to rechristen the institution Aurora University.
The roots of George Williams College run deep in the YMCA movement of the 19th century. In 1884, leaders from America's YMCAs gathered on the shores of Geneva Lake in Williams Bay, Wisconsin, to attend a summer training program. Two years later, the camp was incorporated, and the first parcel of the current Williams Bay campus was purchased. Since that time, "college camp" has been a source of inspiration, recreation, education, and renewal for thousands of guests and students.
In 1992, Aurora University and George Williams affiliated. A merger was completed eight years later. Today the institution operates in Aurora, Illinois, and Williams Bay, Wisconsin, as well as through AU Online. The university also offers undergraduate degree completion programs in social work and elementary education at the University Center at McHenry County College in Woodstock, Illinois.
For more history highlights: