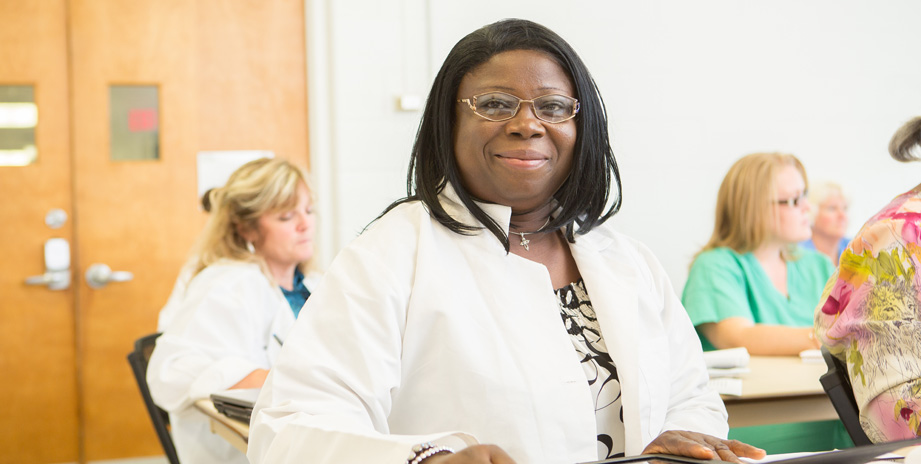 The RN to BSN Adult Degree Completion Program is designed for registered nurses (RN) who wish to earn a Bachelor of Science in Nursing (BSN). Coursework builds on prior learning and nursing experience while enhancing professional nursing practice and providing a foundation for leadership roles. The availability of a face-to-face or online format allows the degree completion student to choose the learning style best suited to their busy lifestyle.
Classes meet year-round in eight-week modules, allowing busy professionals to make steady progress towards their educational goals. Small class sizes allow for significant interaction among peers and professors. Face-to-face classes are delivered in a cohort model at Aurora University's Orchard Center, Woodstock Center, George Williams College and on-site at hospitals throughout Illinois and Wisconsin.
Course Requirements for RN to BSN Students:
A minimum of eight semester hours of the following*:
Human Biology, Microbiology, Biology of Cells, Anatomy and Physiology I and II or course equivalency (8)


Additional course requirements*:
ENG 2010 Introduction to Research Writing (4)
MTH 1100 College Algebra (4)*
PSY 3250 Lifespan Development (4)*


Major Requirements: 38 semester hours (30 semester hours of NUR coursework)
BIO3050 Pathophysiology (4)
NUR3015 Introduction to Nursing Informatics (4)
NUR3030 Dimensions of Professional Practice (4)
NUR3280/Z Health Assessment, Education & Promotion (4)
NUR4060 Nursing Research (4)
NUR4620 Leadership and Management (6)
NUR4780 Ethical, Cultural & Policy Considerations (4)
NUR4850 Nursing: A Global Community Outlook (4)
MTH2320 General Statistics (4)*


Completion of Aurora University's General Education curriculum and 123 total semester hours*
Forty (40) semester hours for prior nursing education are received as a block credit in the transfer evaluation.
* Coursework may be accepted in transfer. We can evaluate your transfer credit with unofficial transcripts, but you must submit official transcripts to the Office of Admission prior to being accepted to Aurora University.
Career Opportunities
The RN to BSN completion track is designed to prepare nurses to step into leadership positions at prestigious hospitals and care facilities.
RN to BSN Admission Requirements
Be a recent graduate of an accredited School of Nursing, an RN with clinical experience within the past five years or completion of a certified RN refresher course.
A cumulative GPA of 2.5 on a 4.0 scale.
Possess a current Illinois or Wisconsin RN license.
Application Process
Complete the online application for admission.
Submit official transcripts from all prior academic work.
The RN to BSN adult degree completion program is offered at the Aurora University Orchard Center, Woodstock Center, at our George Williams College campus and through AU Online. AU also offers an MSN Bridge program for registered nurses who hold a bachelor's degree in a field outside of nursing, which allows you to enter a graduate-level program without earning a second bachelor's degree.
Loading...