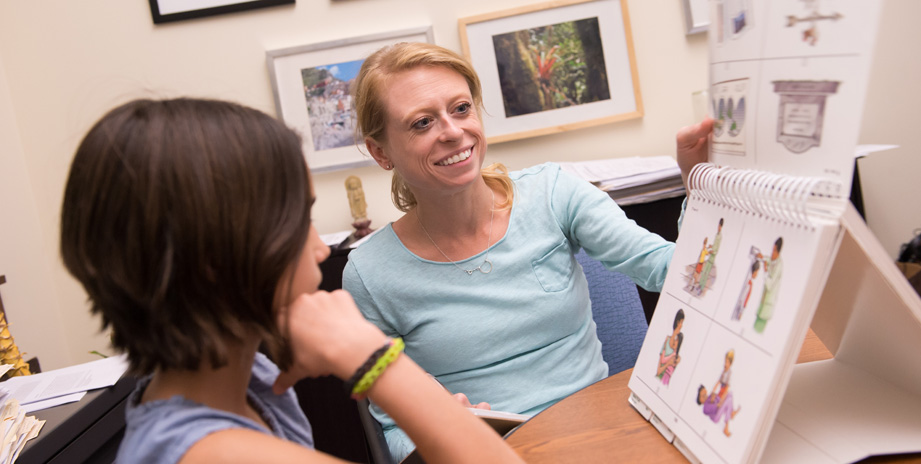 The primary focus of this program is to prepare candidates who have experience in schools, or with a degree in a related field, for a Learning Behavior Specialist I (LBS I), Type 10 certification. Certification requires teachers to build a knowledge base to identify and intervene with students who exhibit a wide range of disabilities, including learning disabilities, cognitive impairments (mental retardation and traumatic brain injury), autism, social/emotional disabilities, and physical disabilities/other health impaired. Moreover, although the certificate will cover grades K-12, candidates will have a working knowledge of issues and strategies appropriate for the grades P-12. The coursework is designed to allow the candidate both to evaluate research and conduct action research in the classroom. Furthermore, varied clinical practice and field experiences are considered an integral part to all courses so that the candidate can apply theory to practice and practice to theoretical conceptualizations. Candidates will be required to student teach.
For a candidate for whom this will be an initial certification with student teaching, there are 54 total hours for the master's degree, which includes the two-course cognate. The main objectives of the coursework are twofold: to build the pedagogical expertise of the candidate; and to facilitate collaboration with his or her students, their families, their colleagues, and the community.
Candidates should be aware that the Illinois State Board of Education requires that these additional tests be passed before an LBS I certificate will be issued:
The LBS I Content Area test (#155)
The Special Education General Curriculum test (#163)
The K-12 Assessment of Professional Teaching examination (#104)
State certification tests must be passed before the candidate may begin the final student teaching experience.
Program Requirements
Individuals who wish to earn a Master's in Special Education with Initial Certification and who qualify as candidates because they have earned an undergraduate degree in a field related to special education and/or have experience in schools will complete 54 total semester hours. 
Requirements for the Master of Arts in Special Education
SPED5510:
Characteristics and Identification of Disabilities and the Law
4 hours
SPED5520:
Cognitive Development and Disabilities
2 hours
SPED5550:
Social, Emotional, and Behavioral Development:  Promoting Prosocial Behavior
2 hours
SPED5551:
Intervention Strategies for Problematic Behavior
2 hours
SPED5560:
Strategies and Assistive Technology for Students with Low Incidence and Multiple Disabilities
2 hours
SPED5570:
Trends:  Collaboration, Differentiating Instruction in the Inclusive Classroom, and Transition
3 hours
SPED6510:
Psychoeducational Assessment of Students with Disabilities
4 hours
SPED5530:
Oral Language Development & Disorders
3 hours
SPED5540:
Diversity & Disability Issues:  Students, Families, Schools, and the Community
2 hours
SPED6520:
Reading Disabilities Theory and Interventions
3 hours
SPED6530:
Written Language Development & Disorders
3 hours
SPED6540:
Mathematics and Sciences Interventions for Students with Disabilities
2 hours
SPED6550:
Introduction to Educational Research
2 hours
SPED6560:
Unified Field Experience
4 hours
SPED6570:
Student Teaching & Graduate Seminar in a Special Education
10 hours
Hours required to complete course work:
 48 hours
Cognate requirements
Candidates will receive a Master's in Special Education if they complete all requirements for certification as a Learning Behavior Specialist I and a two-course cognate in an area jointly agreed upon by the candidate and his or her advisor. Suggested areas include:
Bilingual Education
Reading Specialist
Educational Leadership
Regular education pedagogy
Early Childhood Special Education
  The curriculum for the Master's in Special Education with Initial Certification consists of completing a minimum of 54 credit hours and passing all required state certification exams. 
Additional Information
Loading...