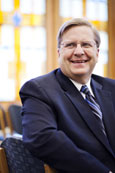 Ted Parge, Executive Vice President, Interim Director of the Wackerlin Center for Faith and Action

Ted serves as Executive Vice President at Aurora University. Prior to his current position, he served eight years as the university's Vice President for Advancement. Under Ted's leadership, the Aurora University development program experienced significant growth with more than $64 million in philanthropic support received during his tenure.
In his current role, Ted continues to oversee the university's advancement programs while also providing administrative leadership to select strategic program initiatives at Aurora University, including the Wackerlin Center and Servant Leadership Initiative.
Ted earned undergraduate and graduate degrees in music education from Illinois State University and has more than 30 years experience in not-for-profit management and higher education.
To contact Ted, call 630-844-5262 or e-mail tparge@aurora.edu
---

Barbara Calvert, Director of Programming
Barb joined Aurora University in 1997. Prior to her work within the Wackerlin Center, she served as the Director of Alumni Relations for eight years and in various roles in Student Life for four years.
The Wackerlin Center is a central resource for the coordination of volunteer initiatives, small or large. Barb works closely with students as they continue to build a student-run volunteer center. The center serves as a resource and catalyst for individual and group volunteer/community service activities. It provides students with a creative environment for the development of programs and initiatives that focus on service and volunteerism. This is done by endeavoring to build community between engaged students, student organizations, the Aurora University community and the local/greater community.
As an alumna of Aurora University, she holds a bachelor's degree and an MBA.
To contact Barb, call 630-844-6865 or e-mail bcalvert@aurora.edu
---

Dr. Jonathan Dean, Chaplain

Jonathan was born in industrial Dudley, in the United Kingdom, and raised in rural Cambridgeshire, in the beautiful ancient city of Ely. He studied classics at the University of Oxford and theology at the University of Cambridge, where he completed a PhD in Reformation studies, studying the character of Catholicism in 16th century England. He has taught seminarians from five major denominations in the Cambridge Theological Federation, and worked as an examiner in theology for Cambridge University. In 2008, he worked for Aurora University as an adjunct faculty member, teaching church history, and he continues to teach and facilitate lay training academies in the Northern Illinois Conference of the United Methodist Church and beyond.
Ordained in the British Methodist Church, Jonathan has served churches both in the U.K. and the Chicago area, and worked in Britain as a prison chaplain in a high-security jail. At other times, he's worked with adults with learning difficulties and in bookselling. Experiences in South Africa and Guatemala, as well as Britain and the United States, strengthened his commitments to interfaith dialog, understanding and action, and have focused his desire to act for justice and peace in this diverse and extraordinary world.
Jonathan is the author of the book "Servitude and Freedom," a guide to reading faith history, and of several chapters, addresses and articles in the areas of Methodist Christianity; appropriating faith tradition relevantly for the contemporary world; and the use of the Bible. He retains other interests in mysticism, current affairs, the arts and the criminal justice system, and has delivered lectures on varied occasions, including the British Methodist Conference and Founders' Day at the University of Evansville, Ind. His next book, on Archbishop Thomas Cranmer, one of the godparents of the Anglican Christian tradition, is due out in 2012.
Jonathan is very excited and feels privileged to be a part of the wonderful Aurora University community, and is proud to serve as Chaplain. He hopes that students and staff alike will visit the center and enjoy a proper cup of British tea with him.
To contact Jonathan, call 630-844-6866 or e-mail jdean@aurora.edu.
---

Kris Johnson, Wackerlin Center Fellow
Kris grew up in Minnesota, loving sports and the outdoors. This led her to a basketball scholarship at the University of Iowa, where she received her bachelor's degree in recreation education with an emphasis in therapeutic recreation in 1986. She then worked as a recreation therapist at Shriners Hospitals in Chicago for the next 16 years. During her tenure there, she completed a master's degree in recreation administration from Aurora University and published numerous articles and presented at national conferences on her specialty and passion: pediatric spinal cord injuries and recreation. Kris has also been instrumental in the development of several not-for-profit organizations serving children with disabilities.
Kris came to Aurora University in 2002, where she served as an assistant professor in the recreation administration program and eventually transitioned to the Director of Student Leadership. She started the Leadership Education And Development (L.E.A.D.) program and has consistently taught the Wellness and Social Responsibility course. Both have service components, which are closely tied to her Lutheran upbringing.
Kris is excited to be connected to the Wackerlin Center and begin to enhance the existing service projects, as well as develop more service opportunities for students, faculty and staff members. Embedded in service, is the opportunity to make a difference in the lives of others as well as develop a sense of community. Both contribute to a sense of spiritual wellness.
During her free time, Kris enjoys scuba diving, camping, gardening, reading and spending time with her family.
To contact Kris, call 630-844-5624 or e-mail kjohnson@aurora.edu.
---
No events scheduled at this time.