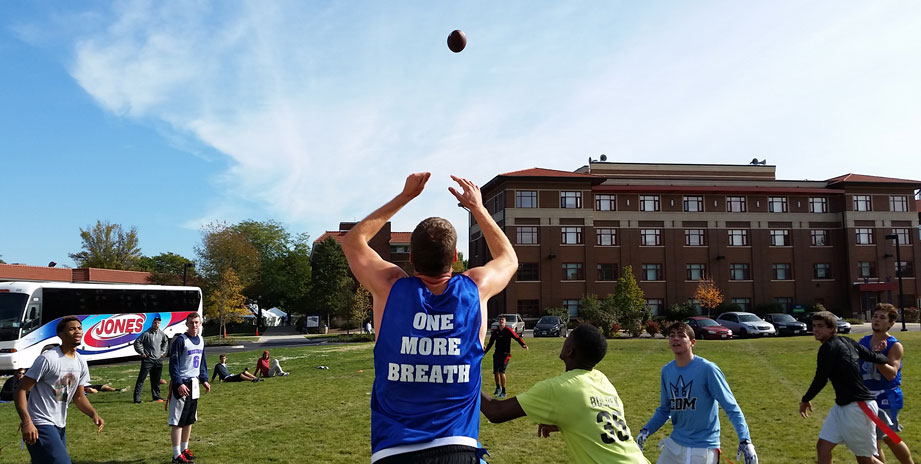 The Intramural Sports program at AU provides an opportunity for all students, faculty and staff to enjoy satisfying experiences in positive and productive ways outside of the classroom and office throughout the academic year. It is the goal of Aurora University Intramurals to enhance the lives of AU community members in positive and productive ways while promoting the value of fair play and a healthy lifestyle. Intramural programs are run through www.imleagues.com and you must create an account (only once) to participate throughout your entire collegiate career.
Directors
Kylor Berkman – Alumni 249
Sean Gant – Alumni LL11
Questions can be directed to imsports@aurora.edu
How to Join Us
Go to www.imleagues.com.
Click Create Account.
Select Aurora University from the "Register at School" drop down menu and fill out required information (must use school email).
After filling out, activate your account via the email they send which directs you to the main AU intramurals page.
You must fill out a waiver which can be done online through the imleague website. Once this is completed, you're all set.
Join leagues by signing in and exploring the main page. Captains create teams or join as a free agent.
Fall Offerings – Deadline for Registration
Dodgeball – September 10
Flag Football – September 10

3v3 Basketball – Pick Up on Sundays. Every week is a new Tournament. (September 20 – October 18)
Badminton – October 15

Wiffleball – October 15

Kickball – October 15

Indoor Soccer – November 5

Volleyball - November 5

Bags – Single Day Tournament – November 1

Racquetball – Single Day Tournament – November 8

Ping Pong – Single Day Tournament – November 15

Eligibility
Who can play?
All currently enrolled students are eligible to participate in the AU Intramural Sports Program. Students must be enrolled in the same semester as the intramural sport in which they wish to participate.
Employees of the university are eligible to compete in intramural sports activities.
Intramural sports are not limited to students living on campus. We strongly encourage commuter students to participate in all activities.
A player may only be on one roster during each intramural sport.
AU Athletes:

An athlete is any individual who is listed on the roster of any of the AU sports teams.
No more than three (3) athletes may be on an Intramural Sports team roster that correspond to the sport in which they are a member.
Athletes that are in season may not participate in the sport that they are a member of while they are in season. (i.e. Basketball players that are in season may not play in Intramural Sports basketball if it is provided during their season.)
Intramural Code of Conduct:
All players should display sportsmanlike conduct at all times. Remember that intramurals is provided to have fun, so please keep this in mind. However, in the event of any unsportsmanlike conduct these guidelines will be followed.


First warning: Any individual who exhibits unsportsmanlike conduct, such as rough play, obnoxious behavior, excessive profanity, or any other behavior that inhibits orderly play
Final warning: Any individual who repeats the conduct listed above will no longer be able to play for the remainder of the game

All warnings will be recorded, and reported. If a player has had two final warnings throughout play, he/she will be excluded from the remainder of scheduled games.
Captain's Meetings
Attendance at the captains' meeting is MANDATORY for all activities and will be the Thursday prior to league start in the gym lobby.
FINAL ROSTERS ARE DUE AT THIS MEETING.
A team representative must be present at this meeting.
Failure to attend this meeting will result in an automatic forfeit of that team from that sport in its entirety.
Captains will be responsible for reading and understanding all intramural sports rules for that particular event and relaying that info to their teammates.
Misunderstandings of the rules could lead to problems within the event, and ultimately disqualifying the team as a whole.