What is Activities Programming Board?
APB is Aurora University's main programming board for the campus. As one of the most active student groups at Aurora, APB plans over 80 events a semester such as concerts, comedy shows, Homecoming, AU Luau, and other such events on and off campus. APB seeks to not only provide quality entertainment to the students, but also to create a sense of community among our student body.
See something you like? Have ideas for the upcoming year? Visit our office in the Spartan Spot and tell us what you think!
How Can I Get Involved?
There are two ways that you can get involved with APB. The first way is to attend our events. We program throughout the entire semester and upcoming events are featured in the Two Week Peek and the OSA events calendar. Come on down to the next movie, concert or comedy show and we promise you won't be disappointed.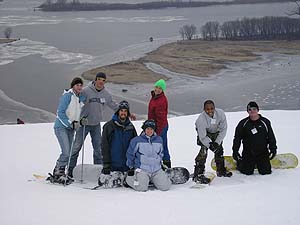 If you are more interested in getting involved on the planning level, 
then consider becoming a committee member of APB. We have general meetings as well as committee meetings scheduled throughout the year to provide you with the opportunity to influence what happens on your campus. APB provides an opportunity that few other student groups can. We allow students to influence the large-scale entertainment on campus while gaining real event planning, advertising and teamwork experience.
Want to bring a certain act to campus, then join APB productions? Join Interested in AU's only school wide formal, the Spring Fling, then join the Special Events Committee? Are you talented in design and graphics? Maybe you'd be perfect for the advertising committee. There is a never ending need for more students to get involved and make our programming better than it has ever been before, so don't hesitate to stop by our meetings. Regardless of your interests, APB has something for you!
For more information on all of our branches and committees, please stop by the OSA. If you have any questions, please don't hesitate to email us at APB@aurora.edu. We'd love to hear from you!